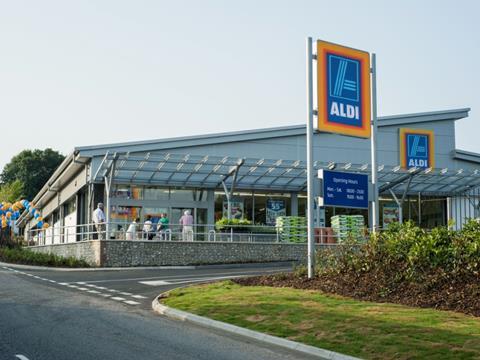 This morning's retail news is dominating by Kantar Worldpanel's figures yesterday suggesting that Aldi has now overtaken Waitrose as the nation's sixth largest grocer.
The Telegraph says the German discounter's growth is likely to continue, given that Aldi will open more than five times the amount of new shop space compared to Tesco this year. The Guardian notes that if current trends continue, in a year Aldi could overtake the Co-op to become the UK's fifth biggest grocer. The Times £ recalls that when Aldi opened its first British store in a disused Birmingham cinema back in 1990, "the supermarket industry was unflustered… and shoppers would not take to its limited choice, unfamiliar brands and no-frills décor".
The Guardian makes a plea to middle class shoppers to "save Waitrose" – suggesting shoppers send a Waitrose Duchy Originals Hamper to Greece, start a 'Guess Who I Just Saw in Waitrose?' viral campaign, or even – heaven forbid – start paying for their free coffee.
On a slightly more serious note, The Telegraph looks at some of the key trends to come out of the latest Kantar data, pointing out that the market share of Tesco, Asda, Sainsbury's and Morrisons is the lowest for a decade and that by 2019 we will spend more in convenience stores, discounters and online than in supermarkets.
Elsewhere, Starbucks is embroiled in yet another tax row over accusations it funnelled tens of millions of dollars in royalty payments from Amsterdam to an obscure British shell company. The US coffee giant, which has been accused of tax avoidance by the European Commission, subsequently dissolved the company, Alk (The Times £).
Sandwich chain Pret a Manger is to start a dinner service and selling wine and beer at its shop on the Strand in central London, as the sandwich business looks to compete with bars and restaurants to tap the pre-theatre crowd (The Telegraph).
Argentina's soyabean "stocks bubble" is about to burst as the country's farmers are set to sell their crops to support their dwindling incomes, warns The Financial Times (£).
The US wheat trading case against Kraft will test how aggressively commercial companies can trade on commodity exchanges where they claim to be hedgers trying to shed risk and enjoy special exemptions from position limits (The Financial Times £).