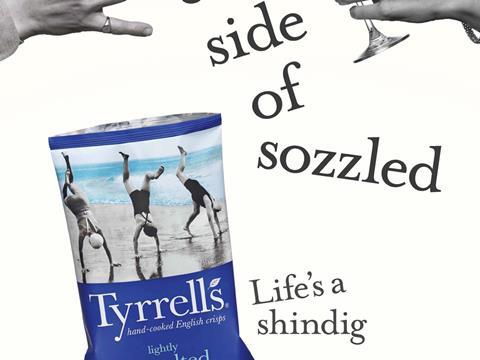 Two big US deals are the focus in today's papers in terms of retail news as Tyrrells is sold to Amplify Snacks and Walmart buys Jet.com. Click here to read the Tyrrells deal and here to read about Walmart on thegrocer.co.uk.
The Guardian notes that Tyrrells private equity owner Investcorp trebled the money it paid in 2013 for crisp business with a £300m sale to Amplify Snacks, the US owner of SkinnyPop popcorn. It is the third sale of Tyrrells since it was founded as a sideline business 14 years ago by William Chase. The Times says "posh crisps hit jackpot for number crunchers" as it looks at why William Chase sold his Tyrrells crisps business to private equity for almost £40m in 2008 and how it has fared since. The Financial Times flags that Investcorp's head of corporate investment Hazem Ben-Gacem said that although the sale comes in the wake of the UK's vote to leave the EU it was unrelated to the broader political environment and that the price had been agreed before the referendum and was left unchanged despite the fall in the value of sterling against the dollar. The Telegraph writes that under Investcorp's ownership Tyrrells has doubled sales to £85m and made £18.3m in earnings last year, while rapidly grown internationally with overseas accounting for 40% of group revenues.
The Financial Times writes that Walmart has taken aim at Amazon after agreeing to pay up to $3.3bn for Jet.com. The start-up was founded with the ambition of undercutting Amazon and the deal signals the world's largest retailer rethinking its strategy for taking on the world's largest online retailer. The Telegraph says the acquisition of the loss-making company, which launched its low-price website just a year ago, was seen as a bold attempt to tackle the widening gap between Amazon and Walmart's own e-commerce business. The Guardian writes that the superstore giant has fallen well off the pace of online retail leader Amazon and hopes Jet's chief executive will provide 'entrepreneurial spirit'. The Mail focuses on the Jet founder Marc Lore and the expected mega payday the deal is expected to trigger for the CEO "who has already made two fortunes". Lore started online sports card trading company The Pit and sold it for £4.4m in 2001 and later set up Diapers.com to offer baby products, which he sold for £422m.