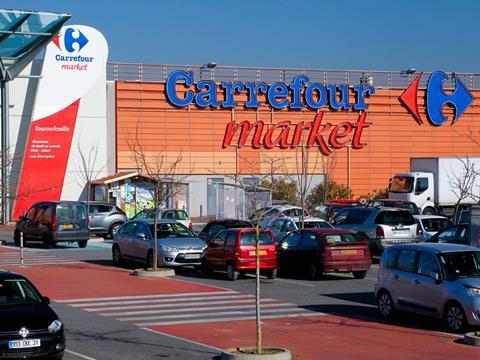 A host of European supermarkets could unlock cash on their balance sheets after receiving a boost from ratings agency Moody's.

A change in methodology related to the way Moody's treats leasehold assets has the potential to strengthen the balance sheet of companies including Carrefour, Ahold, Delhaize and Dia.

Moody's last month reduced the multiple for calculating retailers' lease obligations from eight times to five times the annual lease expense, reflecting that retailers with short-dated leases have more flexibility when trying to downsize their leased store estates.

Lucy Symondson, a member of Rothschild's rating advisory team, said: "The adjustments will give some corporates more leeway within the financial ratios at their current ratings."

Francis Burkitt, MD at Rothschild, added: "This increased leeway potentially enables companies to invest more in their operations and engage in M&A without negatively impacting their corporate rating."
The extra cash could also be used for general corporate purposes, including funding wage increases or growing shareholder returns.
However, UK supermarkets are only marginal beneficiaries of the changes. Tesco's lease obligation multiple only falls from eight times to 7.9 times, and Morrisons' leverage only benefits by 20bp-30bp, Moody's says.

Moody's analyst Sven Reinke said the trend for longer leases in the UK meant UK grocers did not benefit in the same way from the changes as retailers in France and Spain, where leases are typically shorter.

"This is the right approach because it really caters for a situation we have in the UK, where the market is changing and some of the big four are looking into their non-profitable stores, but closing them is very difficult if you are signed up to many more years of rent."

The ratings changes make short lease commitments more advantageous given their less punitive balance sheet treatment. However, UK retailers are likely to be limited in their ability to shift to shorter leases, given the long-lease culture in the wider UK commercial property market and their existing long-dated leases without break clauses.

The changes also make new sale and leaseback deals potentially less attractive, given the long locked-in leases that typically go along with such deals.

Tesco is actually trying to reduce its leasehold exposure, buying back 21 of its UK stores from British Land in March.

Conversely Morrisons is seeking to sell off as much as 10% of its property estate, which is still thought to be almost 90% freehold even after selling seven stores for £260m since late 2014 and two regional distribution centres for £178m.

Reinke said Morrisons' actions still made strategic sense as these freehold properties were "predominantly stores they don't need any more" and it is "committed to using gross proceeds to reduce balance sheet debt".

Symondson said the methodology changes will encourage increased corporate transparency, with firms releasing more information on their operating leases because of the increased scrutiny from rating agencies.