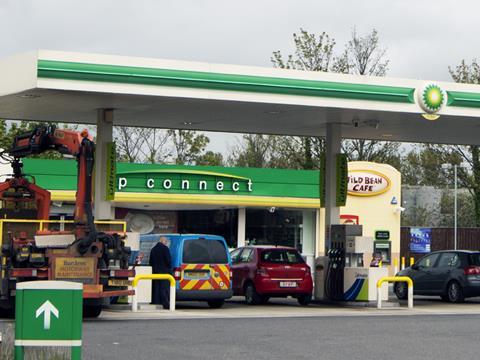 Motor Fuel Group has agreed to buy independent forecourt retailer Manor Service Stations for an undisclosed fee.
The deal will be completed on 3 October.
Manor currently operates 11 service stations in the north of England.
The independent forecourt retailer's petrol stations at Manchester Airport Terminal 2 and Offerton Green, and its head office, are not included in the deal.
Those sites will form part of a new company called Manor Retail Group, which will look to push into the convenience store market.
Managing director Joe Brough said: "The market is very buoyant at the moment and we were made an exceptional offer. Peter Brough [Manor Service Stations chairman], my father, has been in the industry for about 50 years and is ready to retire and wants to take it a bit easier."
Brough said its Manchester Terminal 2 filling station would continue to operate on a rolling contract when its lease ends in December, but will end when Manchester Airport receives planning permission for a hotel to be built.
Manor's turnover marginally decreased 0.1% to £43.3m for the year ending 30 September 2016, according to the firm's latest accounts filed to Companies House.
MFG has also bought four stations each from independent forecourt firms FW Kerridge, and Burns & Co.
"We are delighted to have secured these three long-standing and respected independent forecourt operators," said MFG chief operating officer Jeremy Clarke. "These additional 17 stations are geographically well placed for us and will all fit into our model of offering customers a great forecourt and convenience offer with excellent customer service. We now look forward to bringing these new stations into our vibrant MFG network."
The deals mean Britian's second-largest independent forecourt retailer now operates 422 filling stations.