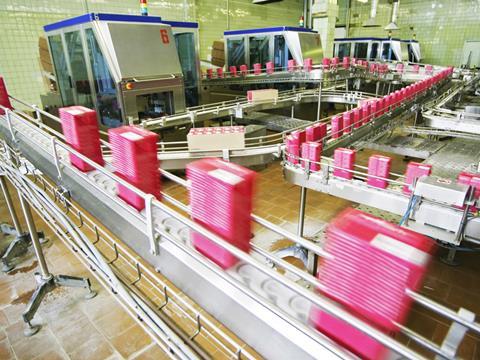 Top story
Sales growth and profit margins declined across the UK's largest 150 food and drink suppliers as the industry readies itself for a no-deal Brexit.
The OC&C/Grocer Top 150 index of the UK's leading food and non-alcoholic drinks producers shows sales growth dropped in 2018 from 7.5% to 4.3% as weaker inflation and low consumer confidence constrained the sector.
The sales slowdown brings overall industry growth back below its long-term average of 4.9% as growth slowed across both branded and own-label producers.
Supplier margins fell for the second consecutive year, hit by input cost inflation that continued into 2018 after the sharp drop in the pound's value and the rising cost of labour, which was compounded by a drop in the number of EU workers.
The figures suggest the UK's food and drink industry is heading towards the 31 October Brexit deadline in a precarious position and is particularly exposed to further cost inflation through a potential further fall in the pound and a further reduction in EU labour.
OC&C UK managing partner Will Hayllar said: "Whilst the future Brexit outcome remains uncertain, the concrete effects of currency devaluation driving up input costs and reduced EU migration putting pressure on the labour pool can be clearly seen."
"With pressure on labour availability and cost only likely to increase there is a real need for the industry to invest to drive productivity improvements."
ABF was the largest UK food and drink supplier, with sales of £3.43bn compared with second placed Boparan Holdings' £3.35bn.
Yesterday in the city
The FTSE 100 ended the day up 0.5%, at 7,356.
Diageo (DGE) climbed 1.4% to 3263.5 after CEO Ivan Menezes said the company expected to post net sales growth in its financial year to 30 June 2020 of between 4%-6%.
Tate & Lyle (TATE) edged up 0.5% to 742.2 after announcing the agreement of a £930m bulk annuity insurance 'buy-in' with Legal & General for its pension scheme.
Ocado Group (OCDO) fell back 3.5% to 1295, despite Ocado Retail posting 11.4% revenue growth in its third-quarter results on Tuesday, up from 9.7% in the first half.
M&S (MKS), which has a 50% share in Ocado Retail, ended the day down 1.2% at 198.8.