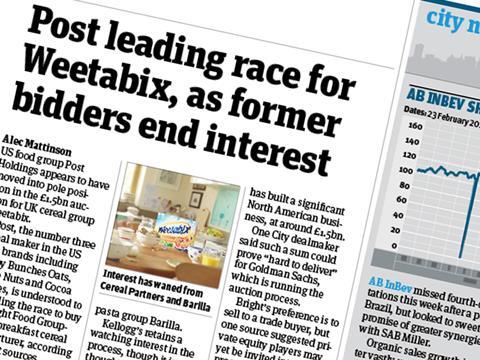 Top story
Weetabix has been bought by US listed cereal manufacturer Post Holdings – as forecast by The Grocer - for US$1.76bn (£1.4bn) its current Chinese owner Bright Food Group has confirmed.
Post is expected to formally announced the acquisition when markets open in the US later today, but a spokesman for Bright Foods has reportedly confirmed the completion of the deal this morning.
The Grocer exclusively reported Post Holdings was closing in on a deal for the UK cereal group in early March after other bidders dropped out of the running.
Associated British Foods, Cereal Partners Worldwide and Italian pasta maker Barilla has all been in the running for Weetabix before declining to take their bids further.
Bright Food bought a majority stake in the cereal brand in a deal worth £1.2bn in 2012.
Morning update
The Grocer also has the story this morning that private equity firm LDC has backed the management buyout of custard creams and bourbons maker Hill Biscuits, in a deal valued at £10m to £20m, The Grocer can reveal.
Following the transaction, Hill plans to kick-start a multimillion-pound capital investment programme to expand its production capacity, develop new products and seek strategic acquisitions in a bid to take advantage of rising demand from current and new customers and build further scale.
MD Steven Wetherby led the buyout, providing an exit for the Bennett family, which originally acquired the business out of confectionary manufacturer Rowntree's in 1980.
On the markets this morning, spirit maker Distil has announced another leading supermarket group has listed RedLeg Spiced rum for its stores. The listing is effective from May 2017, further increasing the brand's presence and availability throughout the UK.
It has also reported continued strong growth in sales volumes and revenues during the fourth quarter (January - March 2017). Unaudited year-on-year fourth quarter revenues rose by 23% and volumes grew by 25%. The company anticipates full year performance to be slightly ahead of the most recently updated market expectations.
Don Goulding, 3xecutive chairman of Distil, said: "All of our key brands enjoyed good growth year on year during Q4 despite lapping numbers which included Easter promotions in 2016. We continue to focus on brand building and distribution gains and are making very good progress.
"Premium spirits continue to outperform the overall spirits market and we expect this trend to continue for the foreseeable future. Our brands remain well positioned within their respective categories."
AIM-listed X5 Retail Group has announced the opening of its 10,000th store - a Perekrestok store in Moscow. Igor Shekhterman, X5 CEO, said: "Today's concurrent opening of 10 stores, including X5's 10,000th location, marks yet another confident step towards our strategic goal of capturing a 15% market by the end of 2020."
The FTSE 100 has kicked off the post-Easter period poorly, dropping 1% this morning to 7,252.5pts amid worries over tensions between the US and North Korea.
Fallers include Crawshaw Group (CRAW), down 7.5% to 25p, CARR's Group (CARR), down 3.2% to 134.3p and Total Produce (TOT), 2.4% down to 162p.
Also falling are Morrisons (MRW), down 1.1% to 231.9p, Diageo (DGE), down 0.9% to 2,277p and Sainsbury's (SBRY), down 0.7% to 256.6p.
The few early risers include Premier Foods (PFD), up 1.2% to 43.3p, Hotel Chocolat (HOTC), up 1% to 327p and Nichols (NCLS), up 0.8% to 1,932.6p.
This week in the City
The grocery sector is back to work after Easter with a bang this week, with a number of City updates from key suppliers.
First up is Associated British Foods (ABF) tomorrow with its first half results.
Then on Thursday is Unilever (ULVR), after updating the market on its strategic plans two weeks ago, with its crucial Q1 results, incorporating the period it rejected a multi-billion pound takeover by Kraft Heinz. British American Tobacco (BATS) is also expected to issue a trading update on Thursday.
Then on Friday Reckitt Benckiser (RB) is scheduled to release an interim management statement.
There's plenty going on internationally too, with Heineken releasing first quarter results tomorrow and Remy Cointreau its full year sales on the same day.
As well as Unilever, Thursday, brings a first quarter update from Nestle (NESN), while Pernod Ricard issues its third quarter numbers.
Friday also sees a first quarter earnings release from Danone (BN).
It's a slower week in terms of economic news, but Thursday will bring the monthly official ONS retail sales for March.