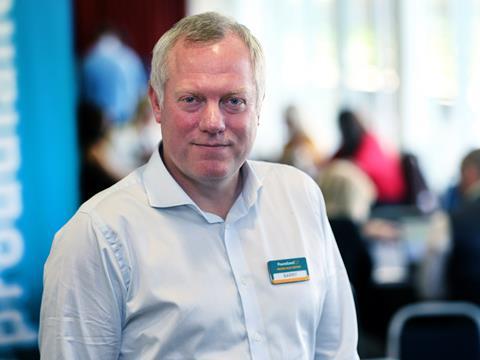 Poundland's MD has dismissed notions that the high street faces doom as the retailer shared positive half-year results.

The results, delayed by an accounting scandal engulfing parent company Steinhoff, show Poundland achieved like-for-like sales growth of 2.4% in the six months to 31 March this year.

Overall sales were down 6% to €900m, attributed to the closure the year before of 60 of its 99p Stores - the chain Poundland bought in 2015 and then put into administration after converting the majority to its own fascia.

The strong performance of the variety discounter comes amid turmoil for high street retailers, with rival Poundworld one of several players to have entered administration.

But Poundland MD Barry Williams insisted "poor retailers" were to blame as he disclosed ­figures to The Grocer ahead of their full release today (29 June).
"I think this whole story of the demise of the high street is actually the demise of poor retailers," he said.

"Footfall is down about 2% but I promise you there's still enough people walking up and down these highs streets for me to do my business plan 10 times over."

Williams also dismissed any suggestion that the pound shop model is no longer viable in the face of currency devaluation.

"There's nothing in our numbers, in the performance of our business, in what we hear from our customers or the discussions I've had with suppliers to tell us that this is not a viable market that can grow into the future," he said. "If the market is left just to us and we are the only fixed price variety discount retailer on the high street and in shopping centres then great.

"Don't get me wrong - it would be great if business rates were resolved and parking charges were reviewed, all those kinds of things to create a level playing field for high street retailers. But even with all of those headwinds good retailers are surviving and thriving on the high street.

"Tough questions need to be asked of the people running the businesses that have been failing."

On Poundworld staff facing redundancy, he added: "I feel for these people that are put through all this uncertainty and are suffering as a result of decisions made on their behalf."

Poundland has introduced new price points of £2 and £5, as well as Pep&Co clothing, with some items priced higher, but 90% of products are still £1 according to Williams.

Like-for-likes in branches with a Pep&Co's "shop in shop" were up 9.4%. Poundland introduced the first at the start of this year and now has them in over 300 branches of its 871-store estate, with 99 added during the accounting period. Poundland says the results were impacted by heavy snow in February as well as the withdrawal of credit insurance for suppliers after the Steinhoff accounting scandal emerged in December.

"The insurers removed overnight pretty much all of our suppliers' cover and that's an issue that I've seen kill retail businesses before," said Williams.

"We've been really fortunate and it's been very refreshing to see that virtually all of our suppliers have supported us through it and traded with us on an uninsured basis, adopting their own risk."

On the continuing possibility that Steinhoff will sell Poundland, he said: "There's a load of ­speculation given the challenges that Steinhoff face but we are not officially or unofficially up for sale at this point. But given all the speculation, we are making sure we're positioned in the right place for whatever the future holds for us as a business. And I think the results play very well into that."

Pepco, Poundland's sister company in Poland and central Europe, delivered €623m sales, up 40% on the year before with a like-for-like of 9.3%, and traded in 126 new stores. Adding the result's to Poundland's gives the group, Pepkor Europe, sales of €1,523m, up 9% on the previous year. The group achieved EBITDA of €128m, up 28% versus last year.