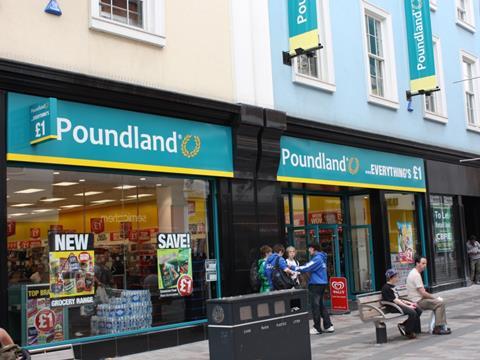 Poundland has reported an 18% growth in first quarter sales after posting a 23.5% rise in underlying full-year pre-tax profits this morning.
Reporting its maiden annual results as a listed company today, Poundland said that sales for the year ended 30 March 2013 grew by 13.3% to £998m and underlying pre-tax profit had risen to £36.8m from £29.8m.
The discounter also updated the market on its first quarter trading, reporting an 18% increase in sales (to £262.6m), driven by stronger like-for-like sales growth and its store opening programme.
Andrew Higginson, chairman of Poundland, commented: "These results show that we are continuing to build on our strong growth record, as set out at the time of the IPO. I expect that Poundland will continue to benefit from its strong trading platform, its universal appeal and the structural change in consumers' shopping behaviour."
Poundland listed on the London Stock Exchange in March and is one of the few 2014 IPOs currently trading above its launch price. Poundland shares rose 2.3% to 336.3p in early trading this morning.
The company opened 70 (net) new stores during the year, with a capital expenditure investment of £17.6m.
Poundland plans to continue this investment, pledging to create 60 new stores in the UK and Ireland this year and open a new 350,000 square feet distribution centre in Harlow in August. Its overall capital investment next year is expected to rise to around £20m.
The company ended the year with 528 stores (495 Poundland stores in the UK and 33 Dealz stores in Ireland and the Isle of Man/Orkney) and has a long-term target of 1,000 stores in the UK and 70 in Ireland.
In February Poundland announced it was to trial the Dealz brand in Spain and said this morning that it had opened its first Spanish store yesterday. The trial will see the opening of ten stores in Spain over two years with a capital investment of around £1.25-1.75m.
Jim McCarthy, chief executive of Poundland, called the year "transformational", adding: "Our strong sales and volume increases demonstrate the relevance of our proposition to consumers from all socio economic groups.
"Manufacturers recognise the increased demand for value and are working hard to deliver products that meet these requirements. Many forward thinking suppliers are also changing their sales, account structures and supply chains to adapt to these changes. We will continue to work with our supplier partners to bring amazing value, brands, new products and innovation to our customers."