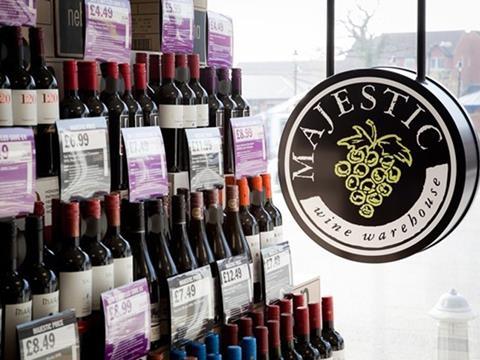 Top story
Majestic Wine (WINE) has issued a profit warning caused by problems at its commercial division and Naked Wines in the US.
Its share price has crashed 25% so far this morning as a result.
The group said in a first-half update that despite the retail operations trading on track, Naked Wines UK and Australia performing well and a return to growth for specialist division Lay & Wheeler, underlying profits for the year ended 3 April 2017 would fall below market expectations.
Majestic's commercial arm, which supplies wine to businesses, had not been growing sales at the levels expected by management, with investment in new business development and the store network reducing profit growth to just 1% in the previous financial year.
The first half of the current financial year has proved to be "even more challenging" with flat sales growth year on year and a decline in gross margin percentage of 200 basis points, Majestic said this morning.
The commercial division's EBIT performance could be now be about £2m lower than expectations as a result.
"We need to find a better, more profitable approach for our commercial operations as part of the group and as a result an internal review is now underway," Majestic added.
A decision to reduce marketing in the US at Naked Wines to replenish low stock levels resulted in an unexpected maiden profit last year. However, the acceleration of a number of initiatives in the first, including testing a new direct mail campaign, pushed up costs. Majestic said despite most of the initiatives being a success, the direct mail campaign was not and has now been stopped.
Naked Wines will swing back into the red this year as a result with an EBIT performance also approximately £2m lower than expectations.
CEO Rowan Gormley said: "It is very disappointing that two isolated factors are distracting from the great progress across the rest of the group. We have always said that we would adopt a test and learn approach, and be quick to redeploy capital from underperforming areas, which is exactly what we are doing. While, this approach is delivering good results in the other business units the scale of the US market means that even a test can have a material effect on profits.
"The turnaround plan in Majestic Retail is progressing well, the key initiatives are on track to be delivered on time and on budget, and preparations for peak Christmas trading are well in hand. Naked Wines UK, Australia and the underlying US business continue to trade well, and we have managed to restore Lay and Wheeler to growth.
"Despite these two factors, I am pleased to say we are still on track to resume dividend payments this year and to deliver our goal of £500m sales by 2019."
Shares in Majestic have plummeted 25% so far to 326.5p – the lowest the stock has been since the start of 2016.
Morning update
Struggling turkey giant Bernard Matthews was acquired last night by the Boparan Private Office in a controversial pre-pack deal. The transaction was confirmed in a statement from owner Ranjit Singh Boparan's private investment vehicle, as well as adminstrators of Bernard Matthews from Deloitte. The acquisition will safeguard 2,000 jobs, with all employees and agency staff all transferring across to the new owners, and the group will continue to trade as normal. Read the full story here at thegrocer.co.uk.
Elsewhere, this morning Diageo (DGE) has made a positive start to its 2017 financial year, continuing the momentum from the previous 12 months when the Guinness and Johnnie Walker owner improved organic growth and profitability. CEO Ivan Menezes said in a trading statement ahead of today's AGM that the improved marketing, innovation and commercial execution delivered last year had strengthened the business and set the drinks giant up for a stronger performance. Scotch, US spirits and the Indian market as the key drivers of further top line improvements this year, he added.
"We have made a strong start to our productivity work and are moving at pace. As we no longer take productivity related costs as an exceptional item, in the first half these costs will impact our organic operating profit margin. In the second half productivity related costs will decline and be offset by higher savings as well as the benefits from our targeted reinvestment of those gains. This will contribute to organic margin expansion for the full year.
"Our top line momentum and progress in implementing productivity changes, gives us continued confidence in achieving our objective of mid-single digit top line growth, and over three years ending fiscal 19 delivering 100bps of organic operating margin improvement."
Grocery tech group Eagle Eye Solution (EYE) has increased revenues 33% to £6.5m in the year to 30 June after winning new contracts with Sainsbury's and international accounts with Canadian giant Loblaws. However, losses widened at the group as a result of heavy investment in its growth, with an adjusted EBITDA loss of £1.8m.
Tim Mason, who is taking over as CEO, said: "I see significant strategic progress from Eagle Eye in the past year. We have won two tier 1 grocers, one overseas; the platform has been extended to support loyalty; all Asda stores have gone live showing the scalability and robustness of the platform; more brands are using the platform.
"I am confident there is significant opportunity for Eagle Eye and as the incoming CEO I look forward to helping the business become 'Better, Bigger, Faster'. I am encouraged that this year's trading has started ahead of management's expectations."
Shares in Diageo opened 0.6% down to 2,166.5p, while Eagle Eye jumped 8% to 107.8p. The FTSE 100 started the day 0.6% up at 6,871.01 points. Sainsbury's made back yesterday's losses, opening 1.6% up at 248.3p, with Tesco up another 0.7% to 179.1p and Morrisons up 0.6% to 216.1p. Ocado is down another 1% to 266.1p.
Yesterday in the City
Tesco (TSCO) finished the day as the winner from the latest round of supermarket market share data yesterday, with its shares moving up 1.1% to a five-month high of 178.4p. Britain's largest grocer recorded its best 12-week sales performance for over two years, with sales down just 0.2% in the period, according to Kantar Worldpanel.
Morrisons (MRW) kept its head above water, with shares up 0.2% to 215.4p, after it lost 0.3 percentage points from its market share to 10.4%. The stock is up 45% so far this year, though, as CEO David Potts turnaround begins to take shape.
Sainsbury's (SBRY) was the only one of the listed big four to fall into the red as its sales fell 1.4%. A 0.8% drop in the share price to 244.5p followed.
Online grocer Ocado (OCDO) recorded a further 2.7% drop in its shares to 266.5p as Tesco and Morrisons continued to improve.
Greencore (GNC) fell 2.5% to 341.8p after it announced that the head of its UK grocery division, Eoin Tonge was shifting over to the CFO role as Alan Williams left after six years for Travis Perkins.
Stevia producer PureCircle (PURE) also saw heavy losses after it warned in its full-year results that future growth would continue to be volatile and that sales had soured in the second half because of delays in customer launches as the seizure by US Customs of a number of shipments. The share price tumbled 6.1% to 310p.
Dairy Crest (DCG) rose 1.5% to 635.5p after losses on Monday after it warned that rising milk prices would harm its butter volumes and margins.
McColl's (MCLS) also benefitted from the overwhelming support from shareholders for the deal to buy 298 c-stores from The Co-op. Its shares were up 3% to 172p.
Diageo (DGE) and Imperial Brands (IMB) were also among the risers, up 1.4% to 2,189p and 1.4% to 4,018p respectively.
The FTSE 100 also nudged up 0.3% to 6,830.79 points.