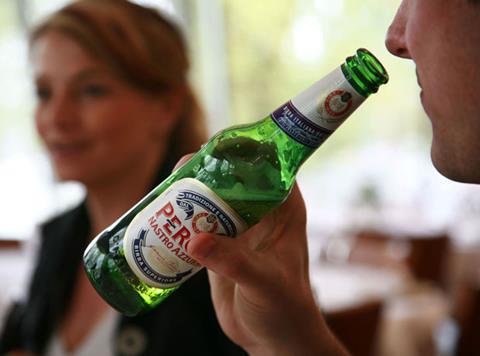 Top story
SABMiller (SAB) confirmed to the market this morning that it has been informed by AB InBev that it intends to explore the sale of a number of its premium European brands.
The brands include Peroni and Grolsch and their associated businesses in Italy, the Netherlands and the UK, and, given the brand's premium positioning, UK-based Meantime.
SAB said the decision was "in line with its commitment to promptly and proactively address potential regulator considerations" and that any sale is conditional on the completion of the AB InBev acquisition of SABMiller.
Alan Clark, chief executive of SABMiller said: "Under SABMiller's stewardship, Peroni and Grolsch have become world-renowned premium beer brands. Meantime has been a welcome addition to SABMiller and has a growing and loyal fan base. These beers are loved by consumers and we are very proud of them. Until the change of control we will continue to invest in growing these great beers and supporting our talented people who brew, sell and manage them."
Morning update
There's plenty going on this morning after a relatively quiet week.
Firstly, as expected, last night Morrisons lost its FTSE 100 place. The supermarket had been in the index for more than 14 years, but loses its place after a near-17% share price slump so far this year.
AG Barr (BAG) has released a trading update covering the period from 26 July 2015 to date. It said that revenue from the ongoing business for the 18 weeks to 28 November 2015 increased by 3.9% compared to the equivalent period last year. Year to date revenue from the ongoing business, as at 28 November, declined by 0.2% and it 2.2% down on a reported basis.
"As anticipated, our revenue performance in the third quarter has gained momentum as we put the specific challenges of the first half behind us and return to our long-term growth strategy," the company said. "Despite continued difficult market conditions we have maintained our market share… supported by continued brand investment."
Booker (BOK) has announced that Bryn Satherley, having served for ten years as group operations director, will be retiring on 1 April 2016. He will not be directly replaced, instead Guy Farrant, MD of Booker Wholesale, will become chief operating officer and Satherley's other responsibilities will be split amongst the other members of the executive team.
Charles Wilson, Booker Chief Executive said: "Bryn has done a brilliant job for Booker Group. He has decided to retire but will remain a good friend of Booker and we wish him all the very best in the future."
Also Booker announced the appointment of Gary Hughes as a non-executive director, with effect from 3 December 2015. Hughes will join the audit and remuneration committees on appointment and is currently a senior member of the Operational Excellence team of private equity firm Apax Partners.
Finally, packaging firm DS Smith (SMDS) has announced its results for the half year to 31 October 2015. Revenues declined 1% to £1.95bn reflecting a substantial adverse currency translation effect of £128m. On a constant currency basis, revenue increased by 6% with the net effect of acquisitions and disposals versus the prior period being £101m. The remaining increase of £9m was driven by organic growth, comprised of organic corrugated box volume growth and an increase from sales price and mix.
Adjusted operating profit increased 5% to £184m, which was up 12% on a constant currency basis.
The FTSE 100 has edged up 0.2% to 6,430.4pts this morning, with most consumer goods and grocery stocks trending upwards.
Notably, after its FTSE 100 ejection last night, Morrisons has recovered some ground this morning rising 1.2% back to 152.8p. Morrisons was expected to suffer short-term share price volatility given FTSE 100 tracker funds would have to sell the shares.
Sainsbury's and Tesco are both up by 0.9% this morning, but Associated British Foods has slipped by 1.1% to 3,564p.
AG Barr is 0.3% up to 526.4p and DS Smith has dropped 2% to 408.3p.
Yesterday in the City
The FTSE 100 was up 0.4% to 6,420.9pts yesterday, driven up by pharma companies after a broker upgraded the sector.
Consumer goods firms also benefitted with Diageo (DGE) up 1.7% to 1,944.5p, Unilever (ULVR) up 1.6% to 2,870p and Associated British Foods up 1.6% to 3,599p.
It was a more downbeat day for the grocers as the build-up to the London Stock Exchange's quarter review that saw Morrisons fall from the index weighed on the supermarkets. Morrisons (MRW) edged down another 0.2% to record another new low closing price of 151p, while Tesco (TSCO) also dropped 0.2% to 167.3p and Sainsbury's (SBRY) fell 0.4% to 251.6p.
There was better news elsewhere – notably Greene King, which rocketed up 13.1% to 963p after adjusted pre-tax profit came in 47% higher at £121.3m, which was well above expectations and indicative of the integration of Spirit Pub Group being ahead of schedule.
Elsewhere, it was also a good day for Ocado (OCDO), which was up 2.5% to 380.1p, Greggs (GRG) which rose 3.5% to 1,287p and Hilton Food Group (HFG), which was up 3.2% to 535.5p.