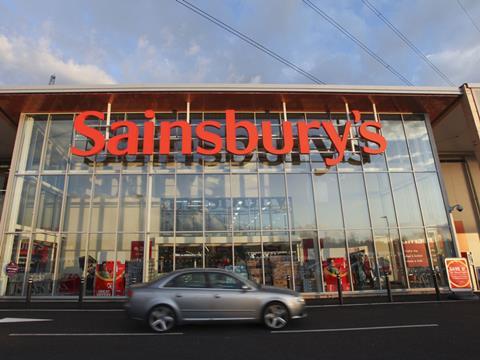 Top story
Like-for-like sales tumbled 0.8% at Sainsbury's (SBRY) in the first quarter, with total retail sales up just 0.3%, as conditions in the industry remained "challenging".
CEO Mike Coupe said the supermarket made a "solid start" to the year with like-for-like transaction growth across all channels and total volume growth.
The convenience business achieved growth of more than 6% in the quarter with seven new c-stores opened.
Online registered year-on-year sales growth of more than 8% and an almost 13% rise in orders.
Coupe said: "Customers continue to shop with Sainsbury's, knowing we will deliver on our commitment to provide great quality products and services at fair prices, whenever and wherever they wish to shop.
"Sainsbury's is well-positioned. Our core food business offers customers choice, quality and a clear value proposition. General merchandise and clothing continue to perform well with good sales growth across both businesses, and we continue to see encouraging results from Sainsbury's Bank, a significant opportunity for long-term growth.
"Market conditions remain challenging. Food price deflation continues to impact our sales and pressures on pricing mean the market will remain competitive for the foreseeable future. However, we are confident that our strategy to be a trusted multi-channel, multi-product and services retailer is delivering and will enable us to continue to outperform our major peers."
Despite the lfl sales drop, shares at the supermarket are up strongly this morning, rising 2.8% so far to 253.5p.
Morning update
Elsewhere on The Grocer this morning we report that Yildiz Holding, the Turkish food group which bought McVitie's and Jacob's manufacturer United Biscuits in 2014, is aiming to launch a FTSE 100 listing as early as 2020 after unveiling its new global snacks company, Pladis. Click here to read an exclusive interview and the full story.
WH Smith (SMWH) has reported a 2% jump in group sales in the third quarter, with like-for-like sales remaining flat in the 14 weeks to 4 June. The retailer's shops in railway and train stations continued to record solid growth, with total sales up 9% year on year and like-for-like sales in line with expectations at 3% up. WH Smith said in the trading update that the sales performance reflected ongoing investment in the UK business and the improvement in passenger numbers.
The high street division, however, was down 4% in the period, with a 3% like for like fall. Smiths said it had continued its profit-focused strategy in the high street in the quarter. The business added it had purchased 1.7m shares and returned to shareholders £29m of the up to £50m share buyback announced in October 2015.
"Looking ahead we continue to focus on profitable growth, cash generation and investing in the business to position us well for the future," the group said. "We remain confident in the outcome for the full year."
Agri-business Zambeef (ZAM) has leapt back into the black in the first half thanks to the stabilisation of the Zambian Kwacha, an "aggressive" expansion of the retail network and cost controls. Pre-tax profit in the six months to 31 March was $9.7m, compared with a loss of $3.8m a year ago. Sales, however, slipped from $102.1m to $ 98.8m.
Chairman Jacob Mwanza, said: "The excellent interim operating performance, achieved within a challenging macro-economic environment, is a tribute to the hard work, skill, dedication and professionalism of all management and staff. I would like to register our gratitude. Their efforts, driven by the board's clear strategic focus, will enable Zambeef to achieve its vision of becoming a major provider of cold chain food products to Zambia and the region.
"With the strong focus on the retailing operations, Zambeef is confident that this robust performance will continue, demonstrating the resilience of the group's business model. As a consequence of this strong operational performance, the board is confident of meeting full year expectations."
Shares at WH Smith have falled 1.2% to 1,720p and Zambeef jump 8% to 8.3p.
Yesterday in the City
The listed supermarkets were back in the red again yesterday after a brief reprieve on Monday. Online grocer Ocado (OCDO) was the worst hit, with the stock falling 3.7% to 259.4p – a near 15% decline since the start of 2016.
Tesco (TSCO) fell back another 1.5% to 156.8p (down almost 8% since Friday), with Morrisons (MRW) also slipping 0.8% to 187.7p and Sainsbury down 0.4% to 246.7p ahead of this morning's Q1 update.
The falls came food sales increasing by 0.3% in the three months to the end of May, according to the latest BRC-KPMG Retail Sales Monitor – which also showed overall retail sales for May up 1.4%.
Other strugglers yesterday included Greencore (GNC), down 1.9% to 323.7p, B&M (BME), down 1.5% to 297.6p, and Britvic (BVIC), down 1.4% to 662.5p.
The FTSE 100 finished 0.2% up at 6,284.53 points as world markets rallied thanks to US Federal Reserve chief Janet Yellen talking up the US economy.
WH Smith was one of the few stocks in the Grocer 25 to climb yesterday, up 1% to 1,740p. Coke bottler Coca-Cola HBC (CCH) was up another 1.2% to 1,410p following Monday's 4.7% leap on the back of an investor event where it reiterated that it expected average annual revenue growth rate in the range 4-5% on a currency-neutral basis.