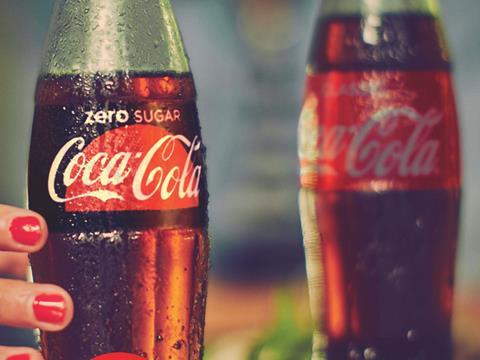 The recently formed Coca-Cola European Partners (CCE) saw sales in Great Britain slide by 14% once translated into euros in 2016 as the collapse in the value of the pound hit reported revenues
The Coca-Cola bottler, formed by the combination of Coca-Cola Enterprises, Coca-Cola Iberian Partners and Coca-Cola Erfrischungsgetränke in Germany iin a merger finalised in May last year, said that "solid gains" in pricing and volume growth in Great Britain could not offset the decline in the value of the pound against the euro.
The pound is currently down around 11.3% against the euro from its pre-Brexit level, but CCEP cites a 17% decline in the value of the pound in its full-year results.
Overall group revenues for the full-year 2016 were up 44.5% to €9.1bn driven by the inclusion of Germany and Iberia in the results for the first time.
Pro forma comparable revenue was down 1.5% to €10.9bn, but up 1% percent on a pro forma comparable and constant currency basis.
Both revenue per unit case and volumes increased by 0.5% on a pro forma comparable basis.
CCEP said a challenging consumer environment and improved weather in key selling months combined to limit volume growth.
Full-year sparkling brands grew 0.5%, but Coca-Cola trademark volumes were down 1% despite a 10% growth in Coca-Cola Zero Sugar.
Iberia revenues were up 8% benefiting from strong growth of Coca-Cola Zero Sugar and the addition of Monster brands, but sales in Germany declined 1.5% due to the impact of promotional plans, negative channel mix with growth in the home channel and declines in the cold channel.
Full-year reported operating profit was €851m, with pro forma comparable operating profit up 1% to €1.4bn and up 5% on a pro forma constant currency basis.
CEO Damian Gammell commented: "This transaction [the creation of CCEP], completed only 10 months ago, establishes an improved platform for growth as we diversify and increase our portfolio value, collaborate to win with our customers, and operate more efficiently, effectively, and locally to capture the market opportunities.
"Going forward, we will focus on delivering our operating objectives for 2017 - goals we have affirmed today - by successfully implementing our marketing and brand initiatives and continuing to realize our synergy objectives. We believe the operating advantages of our new company, coupled with the skill and dedication of our people, will enable us to deliver consistent, value-building growth that creates benefits for our stakeholders and drives shareholder value."
CCEP confirmed its outlook of modest low single-digit revenue growth in 2017 with operating profit in the high single digits.
Excluding synergies, CCEP expects core operating profit growth to modestly exceed revenue growth on a comparable, constant currency basis.