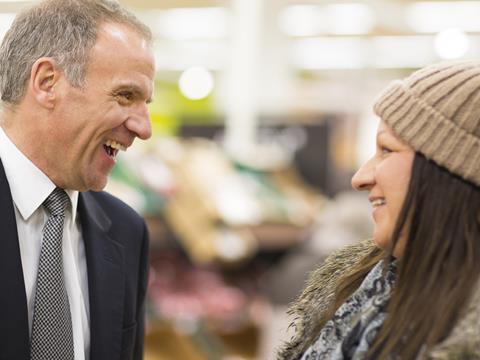 Dave Lewis' declaration that Tesco was officially a business "out of crisis" sparked excitement in the City as shares in the retailer leapt at the fastest rate for almost two years.

The stock rose almost 10% to reach a 14-month peak of 207.1p - adding £1.3bn to its value - as Lewis revealed his plan to swing the juggernaut around was on track. The shares - one of the most shorted on the FTSE 100 - are up 22% over the past month and almost 40% in the year to date.

On top of the third straight quarter of like-for-like growth and profits bouncing back from one of the biggest losses in corporate history a year ago, Lewis provided analysts and traders in the Square Mile with a rosy future outlook. The CEO forecast an uplift in operating margins from the slender 2.2% at present to 3.5%-4% within three years.

John Ibbotson of consultancy Retail Vision said there was a long way to go but Tesco had finally hit its stride. "Its competitors will have cast a nervous eye over these latest results," he added.

David McCarthy at HSBC was also impressed with Lewis's success in boosting volumes and winning back customers with lower prices, better availability and new own-label ranges. "The long-term winner is increasingly apparent," he said. "Tesco is in the sweet spot, where it can lower prices and improve margins simultaneously. It is the UK's fastest-growing retailer for most of its suppliers. Tesco's strategy of lowering prices to win volume share is bad news for competitors."

McCarthy did issue one note of short-term caution: the industry is anxiously awaiting a major price offensive from Asda.

There were also worries surrounding the level of debt and the ballooning pension black hole. The widening pension deficit (from £3.2bn in February to £5.9bn) was swatted aside by CFO Alan Stewart as an accounting issue but there is still no sign of dividends returning. Clive Black at Shore Capital said the pension deficit was "a body blow" but he was more worried about total indebtedness, which includes store leases, jumping from £15.5bn in February to £18bn.