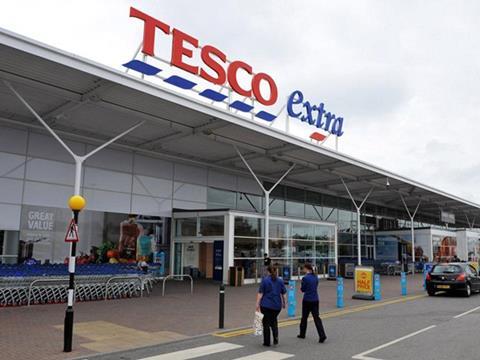 Top story
Sales at Tesco (TSCO) continue to show an improving trend according to new market share data from Kantar and Nielsen this morning.
Kantar Worldpanel found Tesco's overall sales fell by 0.8% for the 12 weeks ending 28 February – halving last month's decline of 1.6%. Nielsen found that sales at Tesco were down just 0.5% in the 12 weeks ending 27 February 2016, which represents its third consecutive quarter of improvement and its best performance since the 12 weeks ending 9 November 2013.
Overall, Kantar found supermarket sales were up by 0.5% compared with a year ago. This is the fastest rate of growth since October 2015 but is still being held back by the ongoing price war and falling grocery prices, which are down by 1.6%.Mike Watkins, Nielsen's UK head of retailer and business insight, said: "Their new customer proposition highlights the benefits of having a large variety of store types – physical and online. Supermarkets offering more locations, good private label and a superior customer experience – not just lower prices – tend to be more successful, and these are some of the areas where Tesco are focusing."
Nielsen said during the four weeks ending 27 February 2016, sales volumes fell 0.8% - the sixth consecutive decline – and sales value fell -1.1%.
Of the big four, both found Sainsbury's (SBRY) performing the best and Asda the worst. Nielsen has Asda down by 5% and Sainsbury's sales flat, while Kantar Sainsbury's up by 0.5% – this is the longest run of sales growth for any of the four main retailers since March 2013 – and Asda down by 4%.
Morning update
UK retail sales rose by 0.1% on a like-for-like basis from February 2015, according to the latest figures from the BRC- KPMG Retail Sales Monitor. The 0.1% represents a slight slowdown from the preceding year when they had increased 0.2%. On a total basis, sales were up 1.1%, against a 1.7% rise in February 2015. After January's acceleration, February's slowdown puts the three-month average growth in line with the 12-month average at 1.8%.
Like for like food sales were down 1.1% during the month. Joanne Denney-Finch, IGD chief executive said: "The deflationary environment for food and groceries continues to deliver a cost of living boost for shoppers while constraining total sector sales. Previously seen as a short lived phenomenon, a majority (52 per cent) of shoppers now tell us they expect food prices to remain the same or fall further over the next 12 months."
Also this morning, the referendum on the UK's European Union membership will have "momentous significance" for the country's food system, according to a new briefing paper published by the Food Research Collaboration.
The report, Food, the UK and the EU: Brexit or Bremain? , argues the country must "wake up to the enormity of unravelling 43 years of co-negotiated food legislation". Authors Professor Tim Lang, of City University London, and Dr Victoria Schoen, of the FRC write that both consumers and businesses will be affected by a vote to leave the EU and would represent a deviation from the real task of getting the UK food system to be more sustainable.
Lang writes: ""The referendum will be a defining moment in UK food policy, with hugely important implications for both consumers and businesses. The Brits need to stop joking about WINE lakes, bent bananas and myths from the EU past, which have been sorted, and get real about security of food supply today and tomorrow."
On the markets this morning, there hasn't been a huge reaction to the decent market share numbers at Tesco and Sainsbury's. Tesco is 0.3% up to 192.4p and Sainsbury's 0.3% down to 269.6p. The big supermarket mover is Morrisons (MRW), down 3.1% to 203p after the market share figures showed slower progress than the City had hoped for in turning around its falling sales. Ocado (OCDO) is also down 1.8% to 259p.
It had been a poor start to trading generally in London today, with the FTSE 100 down 0.8% to 6,127.4pts. Premier Foods (PFD) is down 2.3% to 31.75p, Marks & Spencer (MKS) is down 1.5% to 417.2p, Unilever (ULVR), down 1.4% to 3,045p and Associated British Foods (ABF) down 1.3% to 3,298.7p.
Yesterday in the City
On a day of little dramatic movement in London the FTSE 100 was down 0.3% to 6,182.4pts on some commodities weakness.
The food retailers were amongst the day's better performers, with Sainsbury's (SBRY) up 1.2% to 270.5p, Tesco (TSCO) up 0.6% to 191.8p and Morrisons (MRW) up 0.2% to 209.4p.
After a tough recent run, Poundland (PLND) rose 3.2% back to 173.4p.
The sector saw some fallers too, with Ocado (OCDO) down 1.7% after a strong rise on Friday to 263.7p and Greggs (GRG) down 1.6% to 1,140p.
Other notable movers included AG Barr (BAG), down 1.5% to 549.5p, Coca-Cola HBC (CCH) up 1.1% to 1,401p.
In the wider food retail sector online takeaway firm Just Eat (JE) collapse 9.6% to 383.3p after it was revealed to the market its chief executive and finance director had sold a big chunk of their shares late last week.