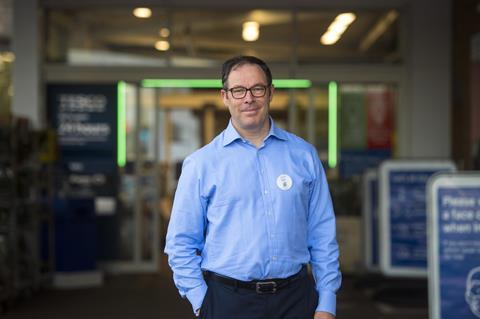 Tesco's new CEO Ken Murphy has taken the hotseat facing a very different storm to the one confronting Dave Lewis four years ago, as the supermarket's interim results showed that booming coronavirus sales came with plenty of additional headaches.
After taking over last week, Murphy on Wednesday revealed that sales soared 6.6% in Tesco's first half to £26.7bn as shoppers relied more heavily on supermarkets during the pandemic. However, costs also ballooned to weigh on profits. Tesco took a £553m hit in the six months to 29 August – only partially offset by £249m business rates relief and higher food sales – as it hired thousands of extra staff and employed a raft of safety measures across stores.
As a result, operating profits were dragged down 15.8% to £1bn despite a 4.4% rise in core retail profits, as a £155m loss at the Tesco Bank business and lower sales in central Europe also weighed on the bottom line.
Tesco said it expected a broadly similar picture for the second half, which will include its vital Christmas trading period.
Susannah Streeter, analyst at Hargreaves Lansdown, noted: "Even though Tesco collected the clicks on a huge scale during the pandemic as it ramped up its delivery service, the six months to the end of August were far from a supermarket sweep for the grocer.
"Tesco now expects retail operating profits for the current year to be at least the same level as last year, but it will have a fight on its hands, given the intense competition in the grocery sector."
Despite the drop in operating profits, Tesco raised some eyebrows by pledging to pay a £315m dividend to shareholders, having received business rates relief worth almost £250m.
However, HSBC argued this payment pointed to Tesco's commitment to return cash to shareholders. The broker said "There was plenty to like about Tesco's interim results. New CEO, Ken Murphy, gave an encouraging view of the business… his values are consistent with the business he now runs and his comments show an indication that he will drive the UK business hard to deliver benefits for customers (through value) and shareholders (through cash)."
Clive Black from Shore Capital agreed that Murphy is taking on a "well-oiled Tesco machine", with investors set to benefit organic growth, rising dividends and share buy-backs.
Tesco shares rose on Wednesday morning to open at a two-week high of 225p, but settled back to end trading down 0.7% at 212.6p. The shares are down by about 15% since the start of the year.