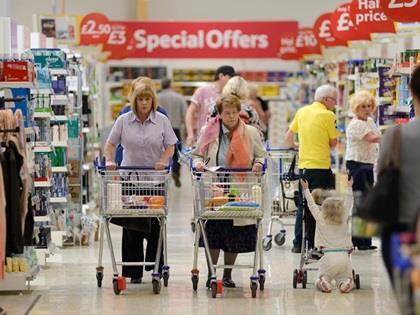 Top story
UK consumer confidence is at a five-year low, according to the latest GfK index, although people are more confident about making major purchases than a year ago.
The score dropped one point to minus 14 in December compared to the previous month. That puts it five points below January 2018's score.
The index is based on a survey of 2,005 consumers aged 16 and over, on behalf of the European Commission.
The score has been in negative territory since 2016 but the new low points to a clear "vote of no-confidence in our immediate economic future", according to GfK's client strategy director Joe Staton.
The rating is an overall score based on a number of separate measures including respondents' personal finances, outlook on the general economy and confidence in saving.
The rating for the general economic situation over the next 12 months, based on asking consumers how they think the situation will develop, was minus 38, six points lower than in November 2018 and 10 lower than December 2017.
The personal financial score for consumer outlook over the next 12 months, based on asking how household finances are expected to change, was minus one, a four-point drop compared to November 2018 and three lower than in December 2017.
But the major purchase rating, based on asking whether now seemed the right time to buy goods such as furniture, was a more optimistic two points, five up on the previous month and six higher than in December last year.
The savings score, based on whether respondents thought it was a good or bad time to save, was also up on a year ago, by 12 points to 16. It's a four-point rise compared to November this year.
"At minus 14 this month, UK consumers are ending 2018 on a pessimistic note with Christmas cheer in short supply," said Staton.
"The uptick in the 'major purchases' measure also might be no more than a last festive hurrah for retailers, the only sliver of comfort and joy amidst the gloom," he added.
"In the face of ever-rising costs, and the threat of higher inflation combined with uncertainty around the outcome of the Brexit negotiations, it's no surprise that consumers are in a chilly mood of despondency and putting on a glum face when they look at the prospects for 2019."
Morning update
Diageo (DGE) has completed the sale of a portfolio of 19 brands to Sazerac, a deal first announced on 12 November 2018 and said at the time to be worth US$550m (£428m).
Brands involved in the sale include Seagram's VO, Seagram's 83, Seagram's Five Star, Myers's, Parrot Bay, Romana Sambuca, Popov, Yukon Jack, Goldschlager, Stirrings, The Club, Scoresby, Black Haus, Peligroso, Relska, Grind, Piehole, Booth's and John Begg.
Diageo is to enter into long-term supply contracts with Sazerac on completion for five of the brands each for a period of 10 years, the company said as the initial announcement was made.
The FTSE 100 was roughly flat in early morning trading, at 6,707pts.
Ocado (OCDO) recovered somewhat from a 3% fall yesterday, rising 2.1% to 771p. Tesco rose 1% to 193.8p.
Fevertree (FEVR) rose 1% to 2,167p after falling 2.8% yesterday.
Other risers included Just Eat (JE.), up 6.3% to 608p, B&M European (BME), up 0.7% to 2871.p, and Greencore (GNC), up 0.7% to 179.2p.
Fallers included Finsbury Food Group (FIF), down 2.9% to 101p, Barr (BAG), down 2.4% to 786p, Dairy Crest (DCG), down 1.2% to 411.4p, and Restaurant Group (RTN), dropping 0.9% to 143.4p.
Yesterday in the city
After plunging 1.5% in early morning trading following a hike in US interest rates, the FTSE 100 clawed back slightly but still ended the day in the red, down 0.8% to 6,712pts.
Greencore (GNC) saw a sharp rise of 7.2% to 178p after opening a tender offer to return up to £509m to shareholders.
Meanwhile Real Good Food (RGD) plummeted 8% to 5.7p after yesterday announcing its half-year results and the sale of jam maker R&W Scott.
Hotel Chocolat (HOTC) rose 0.9% to 277.5p after dropping 1.8% in early morning trading.
Elsewhere among the climbers were Hilton Food Group (HFG), up 2.2% to 938p, Purecircle (PURE), up 1.9% to 264.5p, and Greene King (GNK), up 1.6% to 528.6p.
Notable fallers included Premier Foods (PFD), down 3.6% to 31.8p, Finsbury Food Group (FIF), down 3.3% to 104p, Ocado (OCDO), down 3% to 755p, and Fevertree (FEVR), dropping 2.8% to 2,146p.