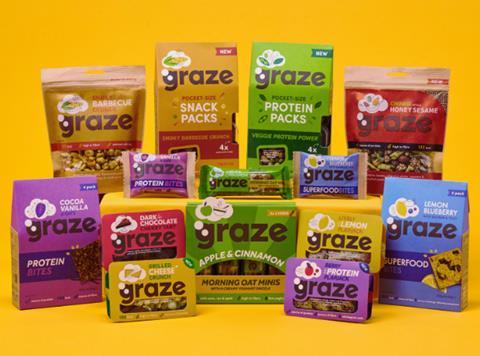 Top story
Unilever (ULVR) has acquired healthy snacking brand Graze in its first acquisition under new CEO Alan Jope.
The UK-based healthy snacking brand, which grew as a direct to consumer business before winning retail listings across the major supermarkets, has been acquired for an undisclosed sum.
Unilever is understood to have seen off competition for Graze from Kellogg's and PepsiCo.
The Anglo Dutch consumer group said that, with a broad portfolio of healthy snack products, the Graze deal accelerates Unilever's presence in the fast-growing healthy snacking and out of home markets.
Nitin Paranjpe, president of Unilever's food & refreshment business said: "Graze is the leading healthy snacking brand in the UK – delivering consumers fabulously tasty snacking options, delivered in beautiful packaging. A truly multichannel brand, graze offers personalisation, convenience and great nutrition, brilliantly meeting the needs of millennial consumers.
"Accelerating our presence in healthy foods and out of home this is an excellent strategic fit for the Unilever Food & Refreshment business, and a wonderful addition to our stable of purpose driven brands. We look forward to working with the graze team to grow the business, leveraging their tech and ecommerce expertise for our wider portfolio, and offering more consumers the opportunity to snack in a healthier way."
Founded in 2008, Graze provides a range of snacking nuts, seeds, trail mixes and snack bars, with no artificial ingredients.
Anthony Fletcher, Graze CEO added: "This deal marks a transformational moment in graze's growth journey. Graze believes that learning from Unilever's sustainable living plan will become a key driver for the business.
"Graze has an incredibly exciting future ahead as part of Unilever and we look forward to working closely with the team to keep on inventing new healthy snacks, as well as continuing to work to understand the role technology can play in improving the food industry."
The deal is understood to be worth around £150m – well below the £300m Graze's previous owner Carlyle was initially seeking.
Carlyle hired investment bank Harris Williams to find a buyer in autumn 2017.
It is understood Kellogg's made a pre-emptive bid in the spring, ahead of the planned auction, but failed to agree on a fee.
Morning update
After a busy morning yesterday there is a lull in newsflow this morning before a number of companies publish trading updates tomorrow morning.
Ocado (OCDO) has posted an update on the fire at its Andover Customer Fulfilment Centre.
Ocado said that the fire which started yesterday morning in a corner of the ambient grid "was not contained as we believed" and expanded during the night.
"Whilst we are informed by the Fire Brigade that it is now under control, during the night part of the roof collapsed and there has been substantial damage to the majority of the building and its contents."
Ocado confirms that no members of staff or the public have been injured.
It said that as Andover was providing approximately 10% of its current capacity, as a result of this incident "there will be a constraint on our ability to meet our growing customer demand and there will be a reduction in sales growth until we can increase capacity elsewhere".
Ocado added that it has comprehensive insurance for the property, stock and equipment on site, and for business interruption losses.
"Once we have had time to assess the damage and prepare a plan to return the CFC to operation we will update further as appropriate.
On the markets this morning, the FTSE 100 has opened the day down 0.3% at 7,156.3pts after yesterday's strong gains.
Unilever shares are off 0.4% to 4,206p since news broke of its Graze acquisition.
Early risers include Bakkavor (BAKK), up 2% to 145.8p, Nichols (NICL), up 1.9% to 1,512.5p, Tesco (TSCO), up 1.4% to 228.9p and Dairy Crest (DCG), up 1.1% to 481.8p.
Fallers so far include Ocado (OCDO) after yesterday's share price jump and this morning's update on the Andover CFC, down 4.6% to 986.4p, McBride (MCB), down 4.4% to 130p and Stock Spirits Group (STCK), down 4.4% to 227p.
Yesterday in the City
The FTSE 100 surged to a three-month high yesterday, driven up by strong international stock market performance, the weaker pound and a strong rise in UK oil producer BP.
Ocado (OCDO) ended the day up 4.2% to 1,034p despite an initial share price drop after announcing the cost of investment in technology had expanded annual losses from less than £10m to over £44m.
The supermarkets came out of yesterday's market share figures in decent shape, with Morrisons (MRW) up 2.3% to 244.9p and Tesco (TSCO) up 1.9% to 225.7p. Sainsbury's, the only supermarket to record an annual sales decline in the figures, still rose 1.5% to 292.9p while Markets & Spencer (MKS) was up 1.9% to 295.9p.
Other strong risers included Greencore (GNC), continuing its stronger recent run by rising 5% to 200.6p, British American Tobacco (BATS), up 3.7% to 2,780.5p, Unilever (ULVR), up 3% to 4,225.5p and Imperial Brands (IMB), up 2.5% to 2,568p.
The day's fallers included Nichols Beverages (NICL), which dropped 7.2% to 1,485p, McColl's (MCLS), down 4.8% to 54p, PureCircle (PURE), down 2.4% to 265p, Devro (DVO), down 2% to 160.6p, Dairy Crest (DCG), down 1.9% to 476.4p and Tate & Lyle (TATE), down 1.7% to 688p.