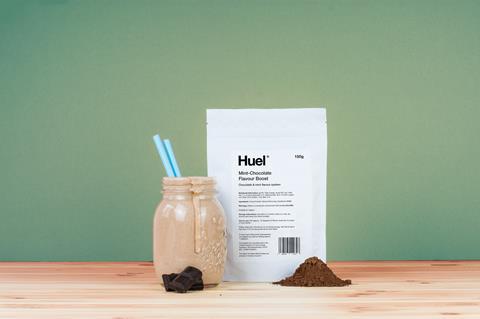 The explosive growth of direct to consumer 'complete meal' brand Huel has propelled the brand to the top of Alantra's Fast 50 list of rapidly expanding food and drink players.
Booming sales of its vegan-friendly powdered meals, snack bars, granola and ready-to-drink shakes added up to total revenues of £39.8m last year, representing a two-year compound annual growth rate of 161.2%.
This puts the brand at the top of the 2020 Food & Beverage Fast 50 rankings, ahead of premium gin maker Warner's Distillery with a two-year CAGR of 139.5% and sales of £10.9m, and last year's table topper Strong Roots, which had a CAGR of 109.1% on sales of £9m.
Huel, founded by Julian Hearn in 2015, passed the landmark of 100 million meals sold in January and is now available in 100 countries, with sales in the US jumping by 50% in 2019.
Last year the brand expanded from its direct-to-consumer roots into Sainsbury's last year and is also listed on Ocado.
"We make nutritionally complete food that is convenient, affordable and plant-based," said Huel CEO James McMaster. "That's massive in the context of the busy lives people lead today, but also reflects issues such as the obesity crisis and the climate emergency."
In October 2018, Huel raised £20m of growth capital from private equity investor Highland Europe to underpin its global growth plans.
"Huel is now a lifestyle choice for most of our customers and it has the potential to be as big as the likes of previous challenger brands such as Red Bull who created then dominated a completely new category," Hearn said.
Overall growth of the Fast 50 accelerated last year, with the average business in this year's ranking achieving a two-year CAGR of 37.9%, up from 34.8% in last year's edition.
Six businesses in this year's Fast 50 have delivered a CAGR above 50%, up from three a year ago.
Alantra partner Simon Peacock commented: "As the Fast 50 has evolved, we've seen a maturation of the sector. Entrants in the Fast 50 are either repeat entrepreneurs or businesses that frequently feature in the rankings.
"This reflects the growing sophistication of these businesses to prosper through the economic cycles, good and bad, as well as the management ability to innovate, and consistently find opportunities to grow."
Alantra director Charles Lanceley added: "For the third year in a row the winner has achieved a greater than 100% CAGR, and for the first time ever, all of the top three have finished above the 100% marker.
"These accelerating rates of growth in food and beverage businesses appear to be driven by access to new distribution channels and food technologies, combined with an ability to build mass consumer engagement very quickly, in a digital world."
Alantra Food & Beverage Fast 50
Brand
Two-year CAGR
Annual sales
1
Huel
161.2%
£39.8m
2
Warner's Distillery
139.5%
£10.9m
3
Strong Roots
109.1%
£9m
4
The Coconut Collaborative
61.7%
£9.5m
5
Gosh!
59.3%
£13.9m
6
Grenade
50.7%
£37.6m
7
Brothers Cider
48.5%
£35.4m
8
Little Moons
48.4%
£7.1m
9
Grove Pet Foods
47.5%
£19.3m
10
Pooch & Mutt
43.0%
£3.4m