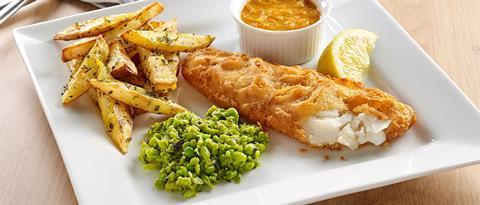 Young's Seafood posted a further £10m pre-tax loss in its financial year before being acquired by CapVest, but sales and underlying profits improved as turnaround progress continued.
Newly filed accounts at Companies House show Young's annual sales rose 4.3% in the year to 30 September 2018 to £545.9m, reflecting increasing sales of frozen and chilled products.
Young's said frozen sales were driven by improved performance in the UK, own-label contract wins and rising exports. Chilled sales were also up, driven by market growth, new listings and "strong customer activity".
EBITDA rose 16% to £23m for the year, while operating profits before exceptional items and amortisation were up 35% to £11.5m.
However, £18.1m of exceptional costs, including £11.1m of restructuring costs primarily related to the closure of its Pinneys site in Annan, led to overall pre-tax losses of £10.2m in the period. Young's was hit by £7.7m of contractual payments, £2.7m related to stock writedowns and disruption as well as separate fixed asset impairments of £7m.
The pre-tax loss still represented an improvement on the near £40m pre-tax loss the seafood processor posted in its previous financial year amid a £39.6m impairment of goodwill.
Young's was sold to private equity investor CapVest in July after a long-running sales process kicked off more than a year ago, when the business was put up for sale by owners Lion Capital, Bain Capital and HPS Investment Partners in April 2018.
CapVest has merged Young's into pork processor Karro Food Group to create a wider multi-protein food producer headed by existing Karro CEO Di Walker.
Commenting on Young's results, Walker said: "The results for demonstrate the company's continued market leadership in seafood and potential for future growth.
"Bringing restaurant quality fish into new categories, Young's delivers the best quality own-label service to retailers. With a good foundation for growth and new ownership in place, Young's Seafood is progressing well with the first phase of transition, achieving export growth and new contract wins since the time of these accounts.
"As we drive forward with our plans for the group, we are very excited about creating an ambitious multi-protein food business, further developing and broadening our relationships with our key partners."
The newly combined group will have sales of circa £1.2bn and employ over 5,000 people across the UK and Ireland.