Harrods opened its reimagined food hall last week, with a focus on everyday groceries "done exceptionally well" - encompassing seasonal products and dishes made by its 150 in-house chefs. The major refurbishment inspired by London's diverse food scene showcases fresh produce, meat, fish and bakery items, and there are further renovations due next year. Here are some of the key elements the Fresh Market Hall has to offer: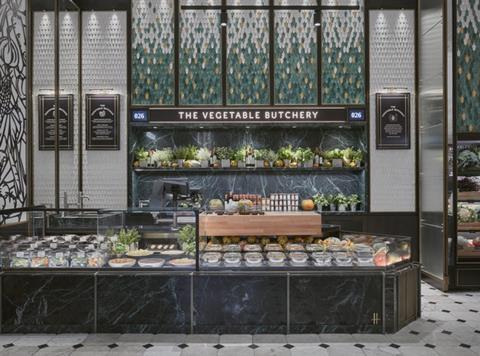 The 'vegetable butchery' gives customers the opportunity to select fresh fruit & veg from the UK and abroad to create personalised dishes to take home. Ready-made options are available too, and current chef-made dishes include vegetable stir fry with oyster mushrooms & pak choi, spiced aubergine steak with a miso, mirin butter & chilli glaze, and mashed heritage beetroot with fresh horseradish root. This installation not only taps the ever-growing popularity of vegan and vegetarian diets, but also the convenience of food to go, and gives customers a tailored grocery shopping experience.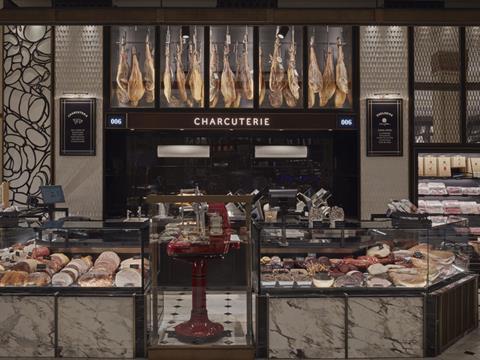 Offering exclusive products and celebrating 150 years of Harrods stocking the "finest continental meats", the charcuterie aims to showcase the upmarket retailer's strong relationships with renowned suppliers around the globe. One such supplier is Joselito, the producers of Cinco Jotas ham. This is known, according to Harrods, as the world's finest ham, and it comes alongside 200 other limited-production legs of meat from Joselito. Each product at the charcuterie is available to purchase whole or sliced, or there are pre-packed SKUs on shelves.
Harrods' fishmonger and butcher counters offer filleting, hand-carving and seasoning services. The fishmonger offers an eclectic selection of fish and shellfish including a new range of own-label salmon sourced from the Faroe Islands between Norway and Iceland, the largest selection of oysters in the UK, a range of the finest caviars, and British and Canadian lobster served fresh in-house or prepared to take away. At the butcher, shoppers can choose from a selection of British specialty breeds and seasonal game, as well as cuts from around the world including Kobe, wagyu and Pyrenean lamb.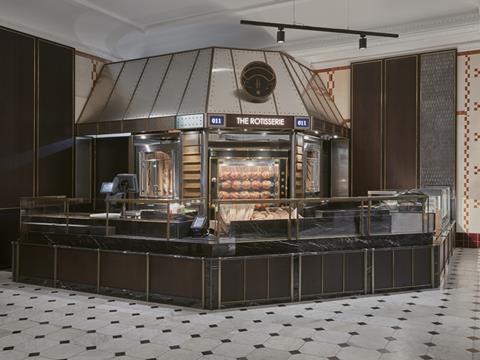 The rotisserie, which was installed in November 2017, is home to what Harrods has called the "ultimate" rotisserie chicken. It has been brined and marinated for 24 hours before being brushed with garlic butter and is on display behind the counter. The rotisserie also has a wide range of sandwiches, including Harrods' sandwich of the day, which can be made with its signature sourdough loaf from its Roastery & Bake Hall, and are filled with fresh cuts of meat including ham, roast beef or buttermilk chicken.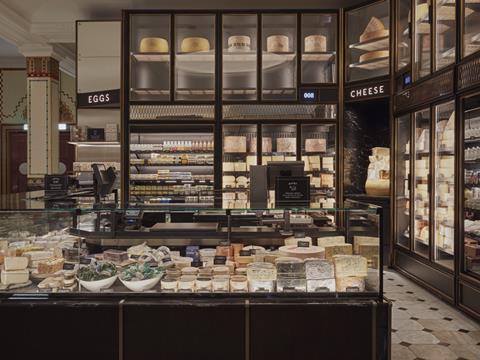 Harrods' dairy counter is designed to encourage customers to broaden their dairy choices, including cheese and eggs. Dairy and dairy-free milk, milkshakes, butter and other cooking fats are on display behind the counter, while the main installation exhibits its upmarket cheese. This is priced per 100g so customers can take home as little or as much as they want, including for bespoke cheeseboards or even cheese wedding 'cakes'. As well as cheeses from gorgonzola to Stinking Bishop, there are truffles on sale at the counter, which Harrods has called its 'truffle table'. These white and black truffles are for shoppers to indulgently sprinkle over their selected cheese.