Fish had been crying out for an innovator when the Saucy Fish Co came along in 2010. Bold, premium and in foolproof foil bake packaging, the launch of 13 Saucy Fish SKUs into Tesco well and truly disrupted the status quo. "For decades the category had just been a bland fixture of clear or white packaging, with no colour, help or inspiration," says Lorraine Wheaton, head of innovation at the brand.
And consumers embraced the change. The range has sold 20 million products since 2010, and has grown to a £35m brand today - 4% of growth in the chilled fish category since that launch can be attributed to the success of Saucy Fish, according to Wheaton.
But five years on, has the runaway success of the Saucy Fish Co encouraged others to start innovating?
The figures look promising. According to Young's Seafood approximately 730 new lines were launched across the category in 2014, a 7% rise compared with 2013. "Brands have certainly stepped up their game in the last 12 months. I think they've woken up," agrees Wheaton.
It's about time for frozen in particular, where falling sales have left the category in desperate need of some visionary NPD. The category saw a 3.6% volume drop and a 1% drop in sales to £889.4m in the 52 weeks to 29 March 2015, according to Kantar Worldpanel.
And when it comes to reversing those figures, Steve Chantry, marketing director at Birds Eye, believes "innovation is key. Listening and responding to the needs of our consumers is of utmost importance."
The brand attempted to do so with its Birds Eye Inspirations range, which was named the UK's most successful product launch by Kantar Worldpanel in 2014 and has achieved £9m in sales since its March 2014 arrival. Birds Eye has also introduced two new lines in the frozen fish sector since - Wholegrain Fish Fingers, and the Lightly Dusted Cod Fillets range.
Yet no amount of Haddock Fillets with Lemon & Chive Sauce or Thai Coconut, Lemongrass & Fish Chargrills could save the company from a downward trajectory overall for its frozen lines - down 6.7% in value to £173m in the 52 weeks to 13 September 2014 [IRI].
The freezer barrier
For Wheaton, the frozen fish category throws up particular challenges when it comes to innovation. "People are mostly shopping in frozen at the end, when they're looking for deals, so it's very difficult to get standouts in a frozen fixture where people don't want to browse," she says. "It's cold, it's uncomfortable and the products are behind glass. So it's a very tricky category to launch new products in."
Young's proved it could be done, however, with the launch of its Gastro range, now worth £22.1m, with a 10.8% household penetration and a 45% repeat rate.
It was a contributor to the growth of Young's frozen sales last year, bucking the trend and totalling £151.2m in the 52 weeks to 13 September 2014, a year-on-year increase of 4.5%, according to IRI.
The easy-to-cook range is about "providing inspiration and confidence so consumers can comfortably shop the frozen sector, and not feel too afraid of fish," says Yvonne Adam, marketing director for Young's. "Fish is a lot scarier than chicken or meat."
The challenge for NPD to overcome that wariness is backed up by a recent survey from Asda, which revealed 75% of consumers are scared to cook fish, and a third would rather go to the local chippy than attempt a fish meal at home.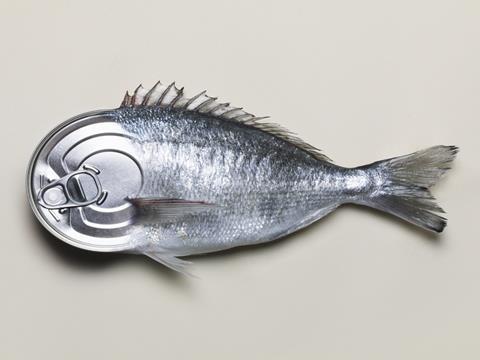 Simple insight
Even more concerning is that nearly a quarter of children surveyed thought haddock was a footballer.
It's the same insight that Saucy Fish responded to five years ago. "You can't help but look on and admire them for that," says Jon Walsh, marketing director for John West. "They took a very simple insight about consumers not knowing how to cook with fish and served it up in a way that's very simple and tasty. I would sit back and applaud that."
That demand for convenience is one of the key drivers for NPD in the ambient category now, he adds. "That's where a lot of our growth is coming from, and what's driving Infusions, Spreadables and Steam Pots."
Big fish numbers
75% of consumers are scared to cook fish, and a third would rather go to the local chippy than attempt a fish supper at home, according to a survey from Asda
4% of growth in the chilled fish category since the launch of The Saucy Fish Co in 2010 can be attributed to the brand, according to the £35m brand's head of innovation
80% of consumers are looking to add more fish to their diets, and there's a 90% household penetration of the category, according to Young's
Indeed, 27% of added-value fish sales in ambient, as of September 2014, came from products launched in the previous 12 months, according to Kantar Worldpanel.
This focus on simplicity, snacking and single use SKUs is all part of an effort across brands to encourage people to eat fish outside the traditional evening meal, at lunchtimes in particular.
So what about the Saucy Fish Co's own stomping ground - the chilled aisle?
It's traditionally where innovation has happened after all. "Retailers tend to use chilled as an area to showcase food credentials," says Adam. In fact 550 lines, 75% of the total category, were launched in the chilled aisles in 2014, according to Young's own figures, with more than half of that innovation occurring over the festive season.
Adam cautions, however, that a successful strategy relies on both NPD and improvements to existing ranges. "It's a combination of renovating the core and providing a piece of inspiration to disrupt the shopping habits," she says. "It's important we're managing our core favourites, and making sure they're modernised and refreshed too."
In fact innovation only accounts for a ballpark figure of between 5% and 10% of sales at the company.
There's still plenty of demand for new ways to cook and eat fish, however, as borne out by the latest figures from Kantar Worldpanel, which show a 4.3% year-on-year increase in spend on chilled fish.
Frontrunner in that is battered fish with a 30.7% year-on-year rise in spend, although Adam puts that down to "a lot of promotional activity in that area".
And while NPD aimed at improving convenience and ease of cooking remains key for all fish subcategories, more incremental, flavour-focused innovation is also important. Recent examples include the four new SKUs added to Young's Funky Fish Kitchen range in March or the addition of meat to a seafood product with the Saucy Fish Co's Squid, King Prawn and Chorizo with Sherry & Herb Sauce oven bake bag. Meanwhile, MacKnight launched its "adventurous" Smoked Salmon Bacon cured with rock salt, maple syrup and spices into Whole Foods Market late last year.
Growing shopper interest in free-from products also offers opportunities for further innovation in fish and seafood. This month, for example, Ocean Crown introduced the first range of gluten and wheat-free fish cakes and pâtés into the chilled sector (see above).
Disruptive
But does anything have the potential to disrupt the market to the extent a saucy little foil bake bag did five years ago? It's all been a bit derivative since, says Wheaton. "I think a lot of it has been inspired by the Saucy Fish Co. We're very flattered, but have we seen anything more innovative? It's all very similar and we're not finding it's stealing from our sales at all."
And that's a waste. Because 80% of consumers are looking to add more fish to their diets, and there's a 90% household penetration of the category, according to Young's. A true innovator could reap serious rewards.
"There's a land of opportunity," says Walsh. "Consumers want to eat more fish; they like the taste and they know it's good for them. Therefore if we can serve it up in formats that are far more convenient and that taste better, then we're on to a winner."
So who is innovating when it comes to fish?
Salmon Tartlets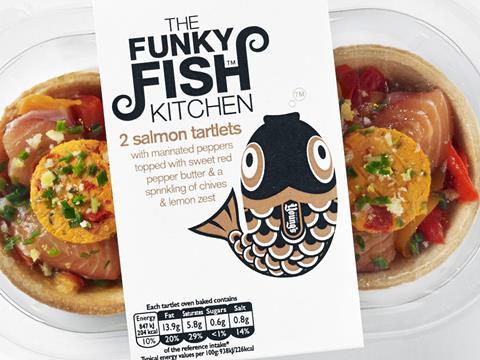 Launched: March 2015
Manufacturer: Young's
Young's Seafood has expanded its Funky Fish Kitchen range with four new ready-to-cook products for spring and summer, one of which includes its first ever pastry-based product. The seasonal Atlantic salmon tartlets served with marinated peppers, red chilli butter and lemon zest will retail in supermarkets for £4.50. Marina Richardson, marketing controller at Young's Seafood, says: "The range enables consumers to try new types of fish with exciting and innovative flavour combinations."
Gluten and Wheat-Free Fish Cakes and Pâtés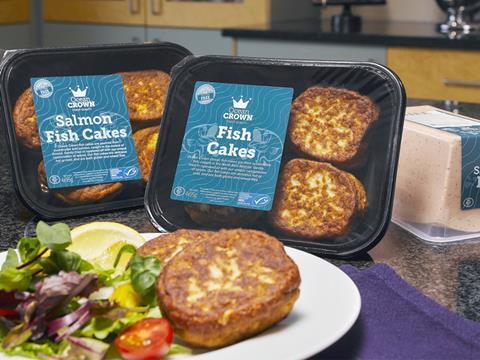 Launched: April 2015
Manufacturer: Ocean Crown
A first for the chilled fish sector, this gluten and wheat-free range includes salmon fish cakes, and salmon and prawn pâtés. "With diagnosed cases of coeliac disease on the increase and a growing number of people choosing to cut out wheat and gluten voluntarily from their diets, retailers must ensure there are options for these customers across all fixtures," explains Scandia Foods CEO Lisa West. The products are also just weeks away from obtaining fully accredited Coeliac UK approval.
Wholegrain Fish Fingers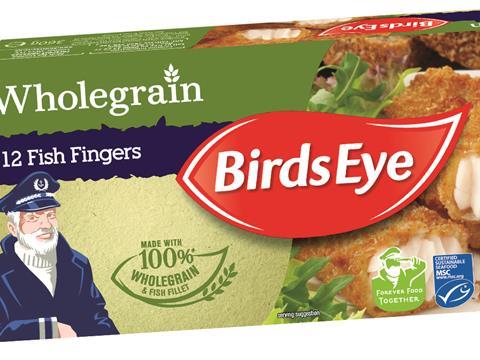 Launched: March 2015
Manufacturer: Birds Eye
This wholegrain NPD was supported by a £2.5m digital, PR and TV push. The product, the like of which has never appeared in the frozen aisle before, say the brand, has a sweeter taste, and is intended to provide more choice for parents. And, according to the brand, 88% of those children who tried the new product in a taste test gave it a thumbs up. Available in packs of 12, the Wholegrain Fish Fingers, which retail at £2.49, were rolled out to Sainsbury's, Asda, Tesco, Morrisons, Waitrose and Iceland in March.
Arctic Royal Extra Large Roeless Scallops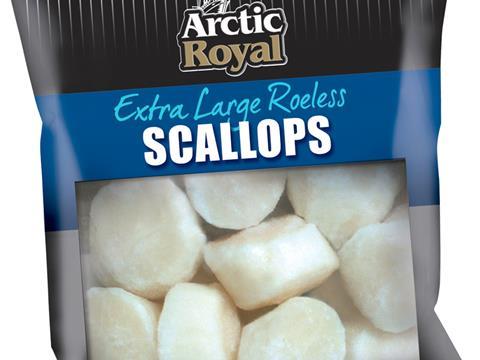 Launched: February 2015
Manufacturer: Iceland
These wild-caught extra-large roeless scallops are individually frozen shortly after capture. "Sweet and succulent" they're "best served lightly pan-fried in a little flavoured butter for just a couple of minutes" according to the retailer. Selling at £12 for 500g, the line has been released as part of Iceland's new speciality meat and fish own-brand range, which also includes battered calamari rings and salt and pepper squid, as well as a number of exotic meats SKUs such as ostrich, buffalo and crocodile.