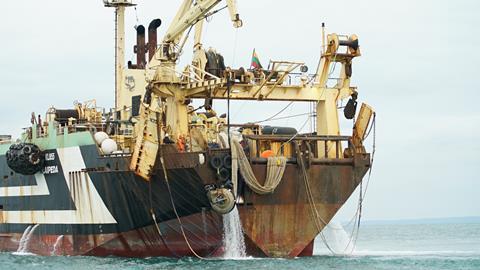 A Greenpeace campaign to ban foreign-owned supertrawlers from the UK's marine protected areas "will have little or no effect" on protected areas and risks fuelling a "nationalistic agenda", fisheries experts have warned.
The campaign is backed by 58 MPs and 10 celebrities including Dominic Raab, Jeremy Corbyn, Caroline Lucas and Michael Palin.
Last month, the group wrote an open letter to Defra secretary George Eustice urging him to ban industrial fishing vessels from MPAs when the UK leaves the EU's Common Fisheries Policy.
Supertrawlers spent almost 3,000 hours in MPAs last year, according to Greenpeace. These conservation areas cover 40% of English seas and are typically established to protect the seabed and its features.
But Chris Williams, fisheries expert and senior programme manager at the New Economics Foundation, said supertrawlers rarely impacted the seabed as they tow suspended nets to catch mid-water 'pelagic' fish. Such a ban in these areas would "have little or no effect on the features the MPA is meant to conserve", he argued.
"It won't do anything for the marine features that are meant to be protected and it's not helping the fish stocks because the boats will still catch the same amount they're allowed to under the quota system," he said.
Will McCallum, head of oceans at Greenpeace UK, acknowledged that supertrawlers did not impact the seabed directly.
Yet the interconnectivity of ecosystems meant their effect could not be ignored, he said. "A significant impact on one part of the ecosystem, like removing hundreds of tonnes of fish in the space of a few hours, will inevitably have knock-on effects," he said.
"Supertrawlers also operate in marine protected areas established specifically to protect species like porpoises, which are at risk of being killed by supertrawlers as bycatch," he added.
Foreign-owned supertrawlers own much of the UK's allocated fish quota and taking back control of British waters is a key issue for many Brexit supporters. However, the quota system is not set to change after Brexit as the Fisheries Bill currently in Parliament contains no proposals to return quota to UK fishermen.
"Nothing will change for inshore boats," said Williams. "These factory vessels own a huge amount of UK quota and they are going to catch that quota somewhere. If you push them out of an MPA around Shetland, then they may just go fish around Orkney," he added.
"The real issue for the seabed is beam trawlers towing heavy gear along the bottom specifically to catch fish that live on the bottom." While every supertrawler in UK waters last year was foreign owned according to Greenpeace, beam trawlers are more common among British fishermen.
Greenpeace's focus on international boats has prompted concerns it is "using a nationalistic agenda which plays into the hands of our more radical Brexiteers", said Jean-Luc Solandt, principal specialist at the Marine Conservation Society.
"They've clearly picked the super trawlers because they're the biggest and the most obvious and I quite agree with them it is ridiculous to have such big boats fishing over large areas of our water. But, and it's a big but, a lot of those marine protected areas are protecting the seabed, not the water column."
Solandt therefore wants to see a complete ban in marine protected areas for all trawlers. But while MPAs are created by UK law, the government must currently seek agreement from EU member states to restrict fishing activity within them.
Will McCallum confirmed Greenpeace was "campaigning against all industrial fishing in marine protected areas, not just supertrawlers", and wants at least 30% of UK waters to be fully or highly protected marine areas restricting all industrial fishing by 2030.
"We are calling for a ban on supertrawlers as a first step towards achieving this because they are the highest intensity fishing boats, and also those which we will have new powers to regulate after our departure from the Common Fisheries Policy," he said.