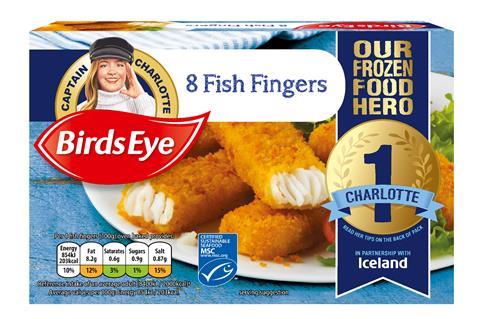 Captain Birdseye has been temporarily usurped from fish finger packs by a shopper who impressed judges in a competition to find a "frozen food hero".
Gloucestershire-based Charlotte Carter-Dunn, 24, beat more than 500 other applicants to the accolade, as part of a competition by Birds Eye and Iceland to celebrate shoppers that used frozen food to trim their weekly food budget and cut food waste.
The foster carer to two children has been crowned Captain Charlotte, and will replace the brand's iconic mascot for the first time in its over 50-year history later this month. The thrifty shopper will remain on packs sold in Iceland while stocks last, and has also landed a year's supply of fish fingers.
She won the plaudits of judges for her efforts in creating an "incredible" impersonation of the famous seafarer, in addition to her range of frozen food tips, including how to make the best use of frozen veg at mealtimes, how best to reuse leftovers and how to organise a freezer. Those tips will also be published on the limited edition packs.
It follows a recent survey of more than 2,000 shoppers by Iceland and Birds Eye, which found the equivalent of £188m-worth of food went to waste every week.
"We're excited to be temporarily replacing our Captain with Charlotte, who is a real champion of the benefits of using your freezer more," said Birds Eye UK general manager Steve Challouma.
"It was clear from Charlotte's frozen food top tips that she was worthy winner, so we hope shoppers are equally inspired by her advice to make the best use of their freezers and to discover the real variety of exciting food options that sit in the freezer aisle."
"We know that there are millions of 'tea time captains' who shop with us every week, all of whom are experts in keeping weekly grocery bills down and reducing waste in the kitchen," said Iceland MD Richard Walker.
"More and more families are waking up to the benefits of frozen food and Charlotte is a great advocate for switching and saving."
Carter-Dunn added the experience of replacing Captain Birdseye was "all very surreal". As a foster carer, she said meal times could be "a little hectic but shopping frozen helps me to cut back on the food we waste and have easy meals on the table in no time".
She added: "My freezer has been even more of a godsend during lockdown as it's enabled us to reduce our shopping trips. I hope that sharing my frozen hacks will help other families get the most out of their freezer."