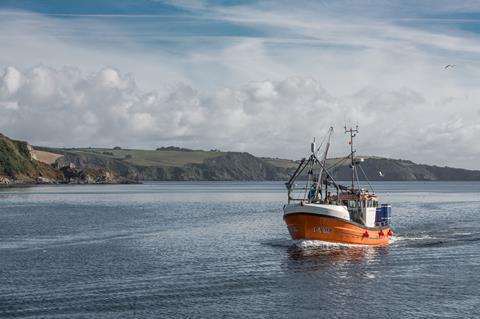 Soaring fuel costs have now risen to a "level that jeopardises the viability of parts of the fleet", and could affect supply from UK fishing boats over the coming months, the National Federation of Fishermen's Organisations has warned.
The viability of the fleet was currently being supported by high fish prices, the industry body said this week. However, the sector was still in an "inherently unstable and fragile balance", which could soon result in vessels being taken out of the water.
The four fishing federations representing England, Wales, Scotland and Northern Ireland that make up the NFFO recently met with fisheries minister Victoria Prentis to warn about the fuel "crisis engulfing the fishing industry", it said.
They made the case to the minister that contingency plans were needed from the government on the occasion that vessels had to be tied up, something it warned could happen quickly over the summer.
This would have huge knock-on effects on the whole fish supply chain, the group said, as they called for the need to collaboratively build a case to the Treasury for a contingency should the situation worsen over the next few weeks and months.
Fuel costs were not the only burden on the industry, the NFFO also emphasised, as in addition to direct fuel costs, the increasing price of ancillary but oil-based products such as rope and sheet netting were also rising rapidly.
Other issues discussed with the minister included displacement, shortage of whitefish in the market, labour shortages and immigration policy.
This issue has been on the horizon since April when industry experts warned about the fuel prices making fishing "uneconomical". Data from Seafish previously revealed that in a worst-case scenario up to two-thirds of the fleet might not be able to cover operational costs.
Whitby Seafoods said at the time it had been relying on catch from last summer to service its supermarket contracts and that it had no choice but to pay more to fishers, otherwise "we will lose the industry".
In response to the requests from the industry body, the minister pointed to the mitigating effect of high fish prices and the challenges in persuading the Treasury to provide support when difficulties face the entire economy.
Growers and meat producers have also warning of the effect rising production costs could have. Earlier this week, apple growers said that the cost of production had risen by 25% over the past year, an increase that would have to be passed on to retailers.