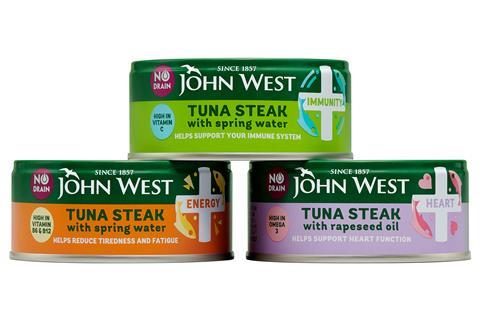 John West has continued its push to reposition itself as a health and nutrition brand with the launch of a range of 'nutrient-rich' tuna steaks.
Launched into Asda, Morrisons, Sainsbury's, Waitrose and Ocado on Wednesday (8 September), the three-strong lineup of no-drain cans came in vibrant packaging carrying clear health messaging (rsp: £5/three-pack).
Each variant has been fortified and bears a name indicating its intended function: 'Energy' contains vitamin B, which John West said would "help reduce tiredness and fatigue"; 'Heart' was said to contain high levels of omega-3 to aid heart function; while 'Immunity' contained vitamin C to "support the immune system".
The brand said the launch had been prompted by a Covid-related boost in demand for healthy products and functional foods.
It pointed to a 2020 report from Smartbrief, which found 29% of people were consuming more functional foods and beverages than before the pandemic. John West also highlighted another report from 2020 by Arizton Advisory & Intelligence, which showed more than half of consumers were taking supplements to support their immune health.
"We know that shoppers are more likely to buy the everyday fish category for practicality and convenience rather than health," said John West Foods international MD Jon Burton. "There is a huge opportunity to leverage health as an innovation driver and connect with younger, more health-conscious consumers.
"The John West nutrient-rich tuna range is the perfect solution – a modern, relevant source of clean protein with additional health benefits."
The NPD was said by the Thai Union-owned company to come in fully recyclable cans, while its multipacks have been wrapped in cardboard packaging.
It comes after The Grocer first revealed in August that John West was seeking to reposition itself as a health and nutrition brand, with the hope of enticing younger shoppers into the canned fish category.
As well as NPD launches, the brand has also modernised its packaging and launched a marketing campaign – which has included a primetime TV ad – featuring its new tagline 'Eat strong, go strong'.