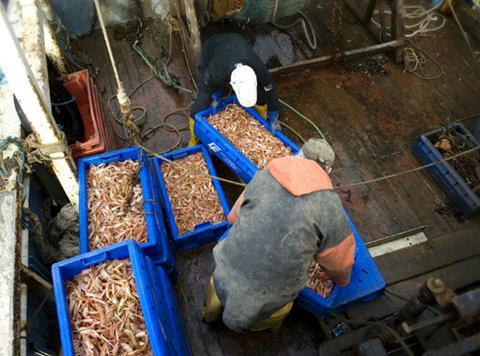 Whitby Seafoods has increased the amount it pays fishing boat crews for their catch of scampi tails in a bid to halt an alarming decline in supply.
A long-term slump in landings around UK waters was now starting to hit breaded scampi supplies, the supplier warned, and could ultimately push up retail prices.
UK retail volumes of frozen scampi rose by 8.7% in 2017 [Kantar Worldpanel 52 w/e 28 January], but landings in key fisheries such as the Clyde and Irish Sea were down 18% last year, said Whitby Seafoods MD Daniel Whittle.
The situation had become even worse since the start of 2018, he added, as landings in the two fisheries slumped by 40% compared with the start of 2017.
With ageing fishing crews leaving what had become an under-invested sector, only 70% of the scampi quota was caught last year.
The shortages equated to about 1,000 tonnes a year or 15% of Whitby's total annual supply of scampi tails, Whittle said, and had prompted the business - which buys three quarters of all scampi tails landed in the UK - to increase the average price it paid crews for their catch by 11% earlier this month.
"Half of our supply comes from around the waters off Northern Ireland, but we have been seeing a declining effort in these waters," Whittle said. "There hasn't been much reward for what is very hard work, and this means young people haven't been coming into the industry. The boats have been getting older and so have the skippers, with many deciding to walk away."
As a result of the reduction in landings, Whitby Seafoods had been forced to discuss ways of rationing supply, he added. But the processor hoped the 11% increase in price paid to the 150 small boat crews which supplied it with scampi (to an average of £5.70/kilo) would help secure supplies in the longer term, despite the increase in raw material costs inevitably leading to a hike in the retail price of scampi.
"Increasing the cost to the consumer is something we don't do lightly," he said. "But as the largest UK processor of scampi, it is in our interest to have a sustainable fishing fleet that is an attractive industry for people to work in. Much change is needed to achieve this and a higher price for tails is an important piece of this puzzle."
Whitby also fully supported upcoming government legislation which would improve conditions on board fishing vessels and improve safety standards, while the processor was also looking at whether it could pay a seasonal premium to crews and even create producer organisations which would see it partner with boat crews to secure long-term supply.
"We want scampi tail fishing to be a safer and more financially sustainable option for fishermen and for the significant declines we have seen to be reversed."