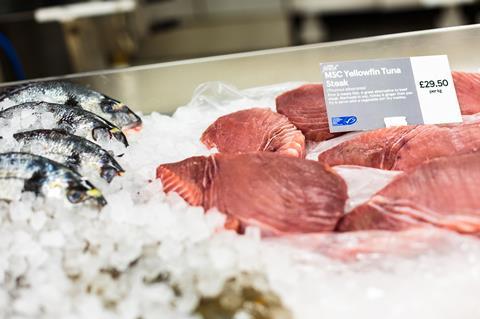 Tesco has expanded its MSC-certified tuna range with new sourcing from Papua New Guinea as it aims to reach its 2025 goal of selling 100% MSC-certified tuna.
The supermarket is now labelling its own-label Stockwell & Co line as MSC-certified as part of the move, with another two products set to follow.
MSC-certified tuna from the fishery is available in store now via a Stockwell & Co Tuna Chunks in Brine SKU, plus a Tesco Tuna Chunks in Sunflower Oil and Tesco Tuna Chunks in Brine line.
The fish from Papua New Guinea will come from a purse seine fishery for skipjack and yellowfin which was certified by MSC in May 2020.
"Tesco has already made progress towards reaching its goal of having 100% MSC-certified products across its tuna ranges by 2025, but the launch of these new products is a very important milestone," said George Clark, MSC director UK&I. "It's fantastic to see Tesco expanding its sustainable tuna offer and providing UK shoppers with more sustainable choices on the Ambient aisle."
Tesco became the first UK retailer to offer MSC-certified yellowfin tuna on a UK fish counter in early 2021, and has introduced MSC-labelled frozen and chilled yellowfin products.
"We are very proud to be chosen as Tesco's MSC tuna supplier and we are expecting that other UK markets will follow that decision," said Marcelo Hidalgo, Papua New Guinea fishing Association sustainability director. "Our commitment to our responsible sourcing policy and our contribution to the UN Sustainable Development Goals place us as a good commercial partner in the tuna supply chain. We build trust and we deliver excellent-quality tuna products."
This news comes following new global data from the MSC which forecasts that global sales of MSC-labelled tuna will reach 130,000 tonnes in 2021/22, more than double the amount sold five years ago (50,000 tonnes). The data also found 39% of the world's commercial tuna catch is certified as sustainable by the MSC Standard.