With the biggest dip in sales in over a year, according to new data, what are the big four to do? Their answer: to promote more.
The big four offered 10,404 between them in the latest Promo Dynamic [Assosia, 4 w/e 8 November], up 1.4% month on month and 4.3% year on year, with the biggest month-on-month change at Morrisons.
But no-one has typified the blitz spirit more than Asda. Announcing a 4.7% sales decline in Q3 this week, Asda has vowed to slash its range.
Meantime, it has increased promotions by 13.3% in the last year to 2,535 - overtaking Morrisons in the process - with 102 extra confectionery lines on promotion, and spirits (+44), frozen poultry (+36) and fizzy drinks (+35), also up significantly. The typical saving has also increased both month on month and year on year.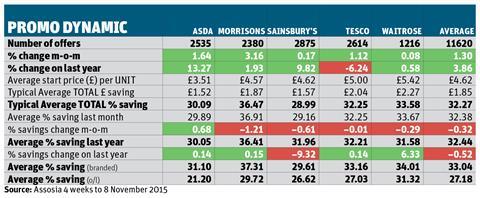 Tesco has also increased promotions in the past month, though activity is down 6.2% versus last year, "a clear result of its range simplification across the store", suggests Assosia MD Kay Staniland. With wine one of the categories hit hardest by Project Reset, the number of wine offers fell by 96, from 232 last year to only 136 this time, with confectionery (-92) and meat (-40) also down.
As with Asda, however, promotions on spirits increased markedly (+84 in Tesco's case). And the focus on this category across all retailers (with over 200 extra promotions) is to be expected adds Staniland, due to both "the proximity to Christmas and the fact supermarkets are looking for support as they're fed up with dipping their hands in their own pockets to support beer promos."
Tesco's lower promotional engagement now means Sainsbury's offers the most promotions. However, Staniland notes a 9.3%. decline in the average saving as it switches its focus from multibuy to save-based mechanics (now accounting for 72% of offers). "Both branded and own label savings now average less than 30% - a marked difference from the other retailers, particularly when it comes to branded savings," she adds.
Conversely, Waitrose is now the king of the multibuy, with 53.9% of deals on either bogof or x for y (a 47% increase), translating into a 6.3% increase in average savings.