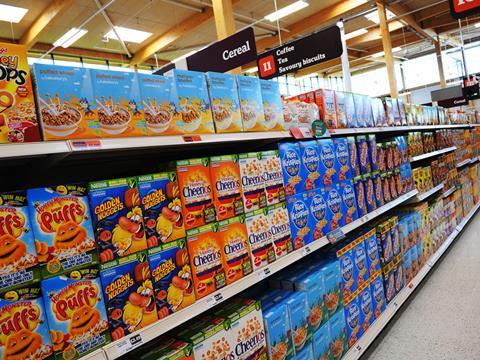 It's been a difficult year for cereal suppliers. Cereal remains the breakfast favourite of most Brits, according to a recent poll, but it is battling against on-the-go and high-protein breakfast trends, as well as bad publicity over sugar content.

In a bid to keep cereal volumes moving and stay ahead in the supermarket price war, the major mults have been lowering the price of cereals since the beginning of January 2016.

Morrisons has cut breakfast cereal prices the most, reducing its stocked cereal average by 13.2% from £3.94 to £3.42 per kilo, followed by Tesco's 10.24% cut to £2.98, according to data by BrandView.com. The average cereal price at Asda fell 5.67% to £3.99 per kilo, while Sainsbury's was the only major multiple to stay steady at £3.76.

Average prices for Kellogg's, which ramped up promotions significantly at the beginning of the year after its Special K brand suffered value sales declines of £28.1m in 2015 [Nielsen 52 w/e 2 January 2016] were buffered by the launch of new seeds and grains range Ancient Legends.

Including the new range, which rolled out in stores in January, average prices for Kellogg's cereals fell by just 1p to £6.36 per kilo [BrandView 52 w/e 21 April 2016].

But excluding Ancient Legends, average prices for Kellogg's cereals were down 15p per kilo to £6.27.

The base price of Special K increased by 16p to £7.64 per kilo, with increases at Asda, Sainsbury's and Tesco. But including promotions, the shelf price has fallen by 13p to an average of £6.83 per kilo, meaning shoppers are actually paying less while the perceived savings on deal are greater.

Meanwhile, Aldi has got a little more involved with branded lines, keeping up the pressure on the major multiples to keep prices low. At the start of the year it only sold Kellogg's Corn Flakes, but in February it listed Crunchy Nut Milk Chocolate Curls with Honey and Nut Clusters at £1.99 (almost two-thirds of the £2.70 average charged by the major multiples), and a Kellogg's variety pack at 99p - half the price of Morrisons, Sainsbury's and Tesco, and currently matched by Asda's rollback deal at £1.

Prices for Weetabix-made cereal have also fallen since the start of the year, down 7.35% or 31p per kilo to £3.91. This was driven by price reductions of 80p per kilo reduction for Weetabix Crunchy Bran and a 34p drop for Weetabix. Oatibix prices have remained steady and Weetos increased by 4.43% or 17p to £4.01 per kilo.

Cereal Partners UK, the Nestlé-General Mills joint venture that owns brands including Cheerios, Shreddies, Nature Valley and Clusters, has seen prices cut by an average of 4.20% or 22p per kilo since the beginning of the year to £5.02.

Average prices for own label cereals have fallen by 3.54% so far this year to £3.27.