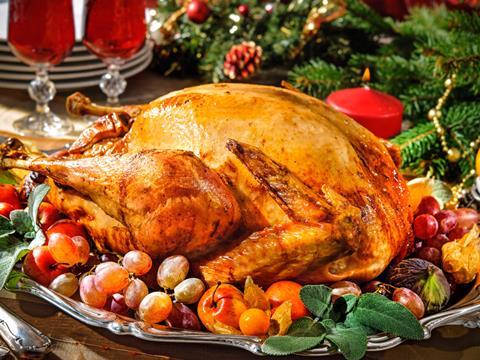 Shoppers are in for a cheaper Christmas dinner this year, with prices of festive favourites being kept down across the big four despite increases in some commodities prices.

As the mults battle to stave off defection to the discounters, whole fresh turkeys - an expense that could persuade some households to switch retailer this Christmas - look set to be about 9% cheaper per kilo than a year ago. Current pricing data (which does not yet include turkey prices from all retailers) puts the average price at £5.88/kg, compared with £6.46/kg last year [Brand View].

Frozen turkey, meanwhile, costs an average of £5.67/kg across the big four - a drop of 10% year on year and a huge 16% decline from average prices five years ago.

This is despite a 1% year-on-year increase in wholesale turkey prices recorded by Mintec in November, driven by producers buying early in the run up to Christmas. Mintec notes global turkey prices have been generally higher in 2015 than 2014 due to concerns over avian flu, although UK production was not affected by outbreaks.

Average prices for Cham­pagne and breakfast favourite smoked salmon have both fallen by 5% compared with a year ago. Smoked salmon prices peaked in 2013, but this year's price reductions have returned the luxury item to within 1% of its price five years ago.

Brussels sprouts have become cheaper still, ringing up at an average of £2.71/kg compared with £3.08/kg last year - a drop of 12%.

Despite these price drops, the mults still have some way to go when it comes to catching up on the discounters. Sprouts at Lidl are just £1.04/kg, while frozen turkey is £4.16/kg at Lidl and £4.72 at Aldi. And while smoked salmon averages £24.89/kg across the big four, it is just £13.75/kg at Lidl and £12.33/kg at Aldi.

While many key Christmas items look set to be cheaper this year, there are exceptions to the deflationary trend. Potato prices are up by 4.5% year on year to 69p/kg, while parsnip prices are up 3.9% to £2.88p/kg. Mintec says higher root vegetable prices reflect lower production in 2015 as a result of poor weather conditions during the growing period.

On a five-year basis, potatoes prices are up by 17% compared with 2010. But they are still cheaper than two years ago, when they had reached a peak of 88p/kg. Parsnips are 12.5% more expensive than in 2010, while sprouts are now fractionallycheaper than five years ago.

Pigs in blankets will also be a more expensive treat this Christmas, with the average price of chipolatas up 8.2% year on year at £6.49/kg - making them the most expensive they have been in five years. This is perhaps to the benefit of manufacturers and retails rather than farmers. Pork prices are at their lowest since May 2008 [Mintec] driven by higher supply and increased competition fuelled by low prices in Europe.