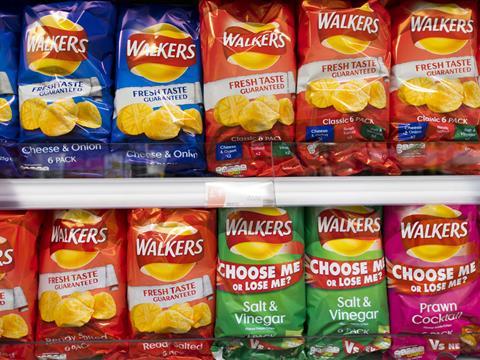 Supermarket crisp aisles have been hit by shrinkflation and inflation in the wake of potato shortages following last summer's heatwave.

In Asda, 12x25g multipacks of Walkers Classic Variety, Cheese & Onion, Ready Salted and Meaty crisps for £2.25 have been replaced with 10x25g bags for £2, while Morrisons has replaced its 20x25g Walkers multipacks, which were £3.64 but on deal for £3, with 18x25g multipacks for £3.

Other Walkers multipacks have seen significant price hikes in the mults in recent weeks. A 6x25g multipack of Wotsits is now 24p more expensive on average, at £1.56, while a 6x25g bag of Walkers Baked Sour Cream & Chive is up by 23p to £1.73.

Shoppers are also paying more for single bags of Walkers crisps following price hikes in several supermarkets. A 32.5g bag of Walkers Cheese & Onion crisps, for example, is now 3p more expensive at 68p on average, while a 20g bag of Walkers Quavers is 7p more expensive at 65p on average and a 27.5g pack of Walkers Squares Salt & Vinegar is up by 5p to 70p.

Walkers isn't the only crisp brand facing inflation in the mults. Tesco has hiked prices across its range of Tayto crisps, while Asda and Morrisons have increased prices on selected Hula Hoops, McCoy's and Pom-Bear SKUs. Sainsbury's has added 10p to its range of 31.8g bags of Seabrook crisps, now on sale for 75p.

Own-label crisps are also getting more expensive. Asda has increased its price for its 12-packs of budget ready salted crisps from 66 to 70p, as well as adding 10p to its six-packs of Crispy Fries, Potato Discs and Prawn Cocktail Shells, now 95p.

Morrisons has added 50p to its 20x25g Variety Mix multipack, now £2.50, while Tesco has hiked its 30-pack of meaty variety crisps by 30p to £2.79.

Walkers manufacturer PepsiCo did not comment, while KP Snacks - which owns Hula Hoops, McCoy's and Pom-Bear, said "shelf prices are at the sole discretion of our retailers".

However, KP Snacks sales director Andy Riddle told The Grocer last year that crisp manufacturers and other potato product processors were facing inflationary pressures after a "dire" potato harvest in the UK and Europe.

The Beast from the East delayed plantings, while the summer heatwave meant potatoes didn't have the right conditions to grow. "We are getting less yield than we should have done and the yield that is coming out is pretty indifferent in quality," he warned.

In December, AHDB confirmed the 2018 potato harvest had been the lowest since 2012, and 13% below the five-year average.

This prompted the UK Potato Processors Association to warn supply shortages and quality issues could last until at least summer 2019, when the early potato crop is harvested.