January is often an odd time in terms of promotions as retailers try to tap into myriad different consumer mindsets - from those looking to cast off the pounds they added during the festive feasting, to those looking to save the other kind of pound after splashing out in December.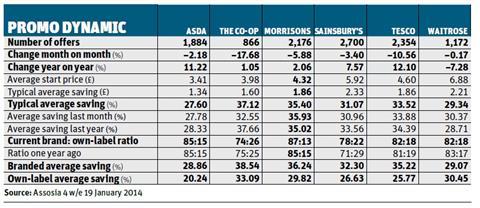 "January historically sees a real mixture of promotions across retailers and categories," says Assosia MD Kay Staniland. "Depending on how Christmas has gone, retailers can be left with a real mixture of goods they have excess stock of and need to make way for new 'scheduled' promotions, giving rise to more random promotional offers."
As a result, and with deal volumes peaking in Christmas week, the number of deals actually fell in the four weeks to 19 January, according to the latest data compiled for The Grocer by Assosia.
However, the leading multiples are still fighting tooth and claw for share and to try and stave off the threat posed by the discounters.
Our figures, which include deal activity at The Co-operative Group for the first time, show that of the six biggest grocery retailers in the UK, only Waitrose was offering fewer deals than during the same period a year ago.
Tesco and Asda had the biggest rises in deal volumes - up 12.1% and 11.2% respectively on last year. Sainsbury's had 7.6% more offers than last January and Morrisons 2.1%.
While the retailers were keen to show off their deals, only The Co-op Group and Sainsbury's were offering a higher average savings than a year ago.
The Co-op Group's average saving was in fact 14% higher than a year ago, at £1.86. This, combined with 1.1% more deals, shows the retailer is looking to narrow the price gap to its rivals. The retailer began January with a major new 'spend £20 get £5 off' offer and followed it this week with a three-day flash sale on essentials such as bread, milk and eggs.
"The most important lever we will be pulling this year is price," said Co-op Group head of retail Steve Murrells. "We need to remove price as a barrier."
The most popular promotion this month remained the simple save mechanic, accounting for 42.7% of all deals.
Wholesale prices: poor weather keeps price of onions high
Onion prices in the UK remain high, as a result of poor weather delaying the harvest. At present, prices are up 62.5% year on year, although they have started to stabilise over the past month.
Tomato prices are also up year on year - supplies were tighter than usual this winter, with difficult weather making it hard for suppliers to meet the seasonally high demand over the Christmas period.
Carrot prices have remained steady month on month, but are down considerably year on year thanks to a good harvest, which has boosted availability of the crop.
And though high potato prices in 2012 and 2013 continue to make their impact felt at retail level (see p35), wholesale potato prices are actually easing now because quality and supply this season - although still not ideal - are much better than they were in 2012, when EU potato production was at its lowest level since 2006.