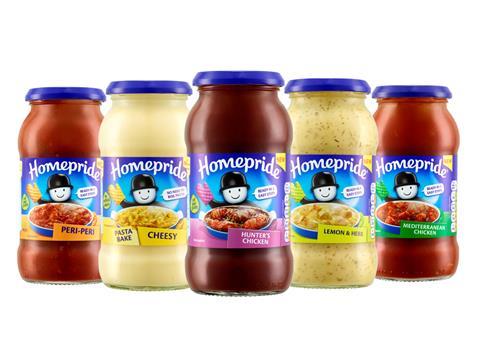 Premier Foods has blamed the rising cost of ingredients for shrinkflation across the Homepride range of cooking sauces.
Around 20 of the brand's jarred variants have been reduced from 500g to 485g while retaining an rsp of £1.59. These include Creamy White Wine, Pasta Bake Cheese & Bacon, Hunter's Chicken, Mildly Spiced Curry and Shepherd's Pie – all of which rolled out this month in the smaller format.
A spokeswoman at Premier Foods said the change came as the result of an increase in the price of some of the ingredients we buy, as well as other costs due to the decline in the value of the pound and rising commodity costs".
The company had tried to manage these higher costs through improving our own efficiency wherever we can" she added. "However, it's not been possible to absorb the full impact and, therefore, rather than raise prices, we decided to reduce the size of some of our Homepride 500g packs to 485g."
In November, insurance broker Lockton warned that shrinkflation was "endemic" in food and drink, with 99% of UK manufacturers admitting they had already shrunk products or would consider doing so in the future.
It came after Premier confirmed early last year that it was discussing with the mults the possibility of higher rsps across its portfolio, in response to the devalued pound and rising commodities prices.
At the same time, the supplier reduced the size of its larger packs of Mr Kipling individually wrapped slices from nine portions to eight – though the SKUs' rsp was also cut, from £2.39 to £2.25, meaning the price per slice was up only "a little bit" (1.6p), according to Premier's then corporate affairs director Richard Johnson.