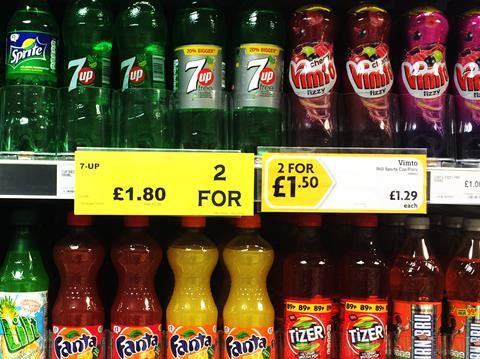 Chocolate, crisps and soft drinks brands are ramping up their use of multibuys again, despite pressure on supermarkets to ban volume deals on 'junk food'.

Multibuys accounted for almost a fifth (18.6%) of total featured space promotions in the mults in the four weeks to 13 July 2019 - up from 16.6% during the same period last year [Promo Dynamic Brands].

Walkers, Coca-Cola, Nestlé, Mars and Heinz and have all increased their use of x for y deals compared with last year, while Walkers, Coca-Cola and Nestlé also increased their use of bogof deals, the data shows.

In total, multibuys accounted for a third (34%) of featured space promotions on Walkers products, up from 18.4% last year, and over half (51.8%) of deals on Coke, up from 29.1% last year. They also accounted for 17.1% of total Nestlé offers, up from 12.9% last year.

"Multibuy deals have always worked well for some categories and brands, and whilst the top 10 still predominantly use single product savings as their preferred mechanic, six of the top 10 have increased their multibuy deals year on year," says Assosia director Kay Staniland.

Impulse brands are also creeping back towards the tills, with Cadbury (+1.3%), Walkers (+4.1%), Mars (+1.6%) Coca-Cola (5.6%) and Mr Kipling (+1.7%) all increasing their use of till aisle ends on last year.

"With prices being squeezed, and suppliers and manufacturers bearing the brunt of it, it's not enough to just be on promotion in the main category aisles," says Staniland.

It comes as the industry awaits the outcome of a government consultation on proposals to clamp down on HFSS promotions as part of efforts to tackle the UK's growing obesity crisis.

In May, supermarket bosses agreed to accept a ban on 'junk food' multibuys in return for ministers ditching sweeping plans to ban HFSS deals at key locations such as aisle ends.

The government's 'Prevention Green Paper', published this week, said it would set out its "response and next steps" on the proposals "as soon as possible".