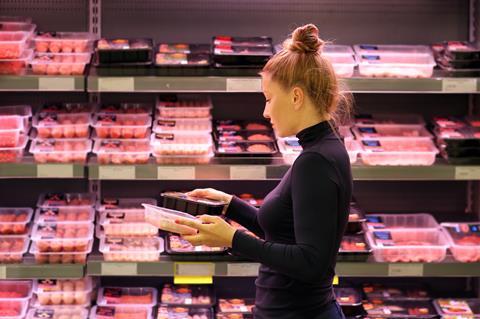 The early signs of deflation are starting to appear across the fresh chicken category, with some products seeing price cuts of almost 10% this month, analysis of Assosia data shows.
An own-label chicken breast line sold by Morrisons saw the biggest week on week price cut across the major mults according to data used in The Grocer's Key Value Items tracker (see below). The SKU saw its price drop by 8% (or 49p) to £6.00 on 8 May. Lidl has also cut the price of its own-label chicken breast line, by 2%, to £6.29.
Across the wider primary chicken category, a total of 12 SKUs across the retailers have seen between a 2% and 16% monthly price cut for products ranging from chicken thighs to whole chickens during May, Assosia data shows.
The biggest cut was for a Lidl Birchwood British Chicken Thighs 1.6kg line, which, with a 16% reduction, saw its price drop from £4.29 to £3.59.
While the price drops are currently relatively modest, they mark the first significant cuts across the fresh chicken category in the past year and come as inflation across the meat category remains stubbornly high.
The average price of a pack of 400g-500g own-label beef mince, for example, is up 2% month on month to £3.99 and up 19% year on year. Own-label sausages (454g) in the main retailers, meanwhile, are up 2% month on month to £2.05, representing a 24% hike year on year.
Production costs
Across the fresh chicken category, the average price of primary chicken in the big five is up 14% over the past year. This is far below the annual increase in production costs, which according to the British Poultry Council were between 18-20% over the past year.
It comes as 2 Sisters' Food Group president Ranjit Singh Boparan told The Grocer last week that the poultry supply chain was at "breaking point" due to low returns. Singh added that inflation levels across the poultry sector represented some of the lowest rates across fresh food, placing suppliers in an "unsustainable" financial position.
Meanwhile, food price inflation stood at 17.2% in May, according to the latest data by the ONS, published this week. This represented a slight fall of 0.1% on April levels. Fraser McKevitt, head of retail and consumer insight at Kantar, said: "The drop in grocery price inflation is without doubt welcome news for shoppers but it is still incredibly high."
Speaking in response to signs prices were now starting to edge downwards, BPC CEO Richard Griffiths said: "Retailers are prioritising short-term price over long-term production."
Chicken production had been affected by the increasing costs of energy, labour, feed and water, as well as a shortage of drivers and lorries, he added.
And while Griffiths understood why retailers were making cuts to chicken he echoed Singh's warnings by suggesting the supply chain could not continue to absorb such high costs, given the relatively low prices charged by the mults for its products.
"Chicken is a staple for huge numbers of people, so getting through the door on that basis makes retail sense," he said.
"But you can't absorb these sorts of cost differentials in the chain."