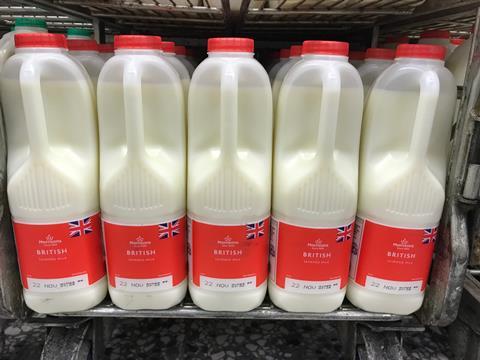 Supermarkets are slashing their prices for fresh milk again as the spring flush brings an abundance of supply in Britain.

The cost of supermarket fresh milk rose earlier this year, when Waitrose and Sainsbury's increased their price for four pints of fresh own-label milk from £1.10 to £1.15, following similar moves from Morrisons and online giant Amazon Fresh at the end of 2018. At the time, there were concerns the difficult conditions for dairy farmers caused by the summer heatwave would push up production costs and tighten supplies.

However, supply shortages failed to materialise and Sainsbury's reduced its price for the SKU back to £1.10 last month, while Amazon Fresh and Morrisons have both reduced their price to £1.09.

It means the three retailers are back in line with Asda and Tesco, which held their price for four pints of own-label milk at £1.09 despite the turbulence at farmgate last year. Iceland has also kept its price at £1 - making it the cheapest major retailer for own-label fresh milk [Edge by Ascential 2 May 2019].

It comes as AHDB Dairy has reported a surge in British milk production in April. According to the levy body, GB milk production averaged more than 37 million litres per day for the week ending 20 April 2019 - the highest level reached at the spring flush peak for three years, with volumes still rising.
"Deliveries are currently running 1.1% above our latest forecast, and 4.4% above the same week last year, equivalent to 1.6 million litres per day," it said. "Most herds are now out on grass, and favourable weather has helped to maintain yields, keeping production above forecasted levels."

Abundant supplies meant Arla held its milk price for May at 30.23p/manufacturing litre - the fourth consecutive monthly hold for its farmer owners. Board director Johnnie Russell said there had been "significant" volume growth in the UK, while volumes across Europe were "stable" compared to last year.

"We are now seeing a world commodity market where prices are higher than current European prices," he said.

Indeed, Rabobank's latest analysis of the dairy market suggests global supplies of milk have stalled, with a squeeze on margins taking its toll on production in Australia and the US. Weather challenges in Australia and New Zealand are also "starting to bite", it warned.

Waitrose is still selling four pints of own-label fresh milk at the higher price of £1.15 - which reflected an increase in the price paid to its farmers, a spokeswoman said.

"We continue to pay our dairy farmers one of the highest milk prices in the industry, which takes into account any changes in their cost of production and allows them to invest in the future of their farms," she told The Grocer in January.