Chocolate brands are ramping up their offers ahead of Easter, but shoppers might be disappointed with what they can save.

Cadbury, Nestlé and Mars have all increased the number of featured space promotions in the major mults compared with last month, latest data suggests [Promo Dynamic Brands 52 w/e 4 March 2018].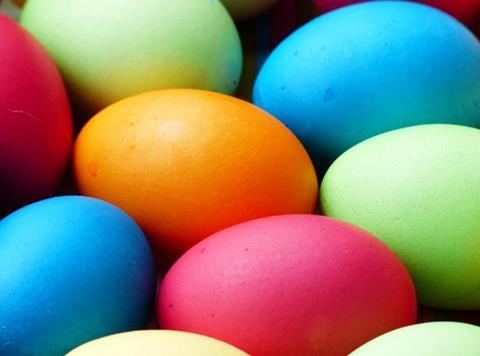 "With Easter fast approaching, confectionery brands are increasing their promotions and climbing the list of top brands," says Assosia director Kay Staniland. "Cadbury remains the top promoted brand and has increased its promotions month on month by 9.4%, whilst Nestlé is the third most promoted brand after a 38.6% increase in promotions month on month, up from sixth last month.

"Mars has increased its promotions 10.7% month on month and has moved up from ninth last month to the sixth most promoted brand this month."

But while Cadbury and Mars both have significantly more offers in store than last year, up by 30.6% and 26.2%, Mars has cut average savings on its products compared with last Easter.

Nestlé has cut back on both the number of in-store promotions (-29.7%) and average ­savings (-2.4%) compared with last year.

As would be expected at this time of year, impulse remains the top promoted category, accounting for 26.3% of total supermarket promotions. However, average savings in the category have dipped by 1.7 percentage points year on year to 32.2% across the category.

Shoppers aren't just getting worse deals on chocolate as the run-up to Easter begins, with savings falling across seven of the 12 categories compared with last year.

"Last Easter it seems better savings could be had, with an average of 33.9% last year compared to 32.2% now," says Staniland. "The biggest drop in savings has been on canned goods, from 34.6% to 29.4%."

Of the top 10 most promoted brands, 70% have reduced savings compared with last month, while 80% have reduced savings compared with last year.
data
4 weeks to 04/03/2018
Ranking
Brand
Number of promotions
Last month
Last year
Average % saving
Average % saving 1 year ago
Average % saving 1 month ago
Average savings % change y-o-y
1(1)
Cadbury
581
531
445
28.6%
27.1%
29.3%
1.4%
2(2)
McVitie's
261
267
239
33.3%
35.0%
34.4%
-1.7%
3(6)
Nestle
201
145
286
31.4%
33.8%
35.3%
-2.4%
4(4)
Walkers
197
156
151
36.6%
35.1%
35.2%
1.5%
5(3)
Birds Eye
194
190
226
32.2%
32.4%
34.0%
-0.2%
6(9)
Mars
135
122
107
37.3%
37.8%
35.2%
-0.5%
7(8)
Mr Kipling
132
129
130
32.9%
33.4%
33.5%
-0.5%
8(7)
Coca-Cola
127
144
118
28.0%
31.9%
24.0%
-3.9%
9(5)
Kellogg's
122
146
110
35.1%
38.9%
37.0%
-3.8%
10(10)
Heinz
112
121
95
25.4%
27.9%
28.9%
-2.5%
Total o/l
1609
1673
1684
26.3%
26.4%
27.2%
-0.1%
Total brands
9653
9788
9858
31.0%
31.8%
29.3%
-0.8%
Total
11262
11461
11542
30.3%
31.0%
31.5%
-0.7%