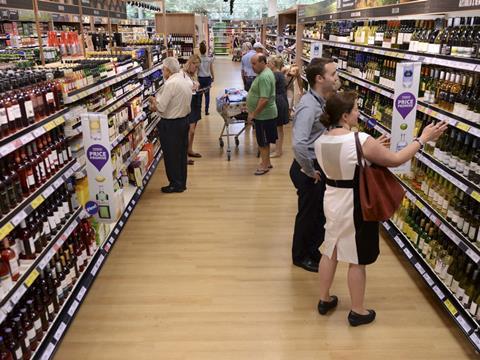 Tesco has bulked up its wine offers but shoppers are saving less on deals than a year ago.
The supermarket giant hiked its total featured space promotions by 8.4% last month, with 2,393 offers in stores – a 10.2% increase on the same four-week period last year. Wine deals were up by 190% year on year.
"Tesco is the only retailer to have increased its featured space promotional activity both month on month and year on year," says Assosia director Kay Staniland. "One of the biggest gains is with wine."
In total, Tesco had 116 featured space promotions on wine over the period, compared with 40 last year. However, "whilst this increase may go some way to bringing it more in line with the other multiples, Tesco still has less wine offers than Asda (184), Morrisons (280) and Sainsbury's (240)," Staniland points out. Tesco has also slashed average % savings on wine deals from 41.6% in 2017 to just 16.9% in 2018.
"Last year, 20% of the wine offers in Tesco this period were half price," says Staniland, "while this year 90% of the offers are basic price cuts and 10% x for y (two for £10), meaning shoppers are saving less."
The vast majority of Tesco's wine promotions (90%) were on gondola ends located in the main 'power aisle', 7% were located in the foyer area and the remaining 3% at the till aisle.
It comes amid a wider increase in featured space promotions on wine in the major mults, with promotional activity up by 28% across all the retailers. "Wine was among the three top promoted categories in every retailer," Staniland says.
"The relatively small size of each product and the range available to promote is extensive. It offers good returns for both the retailer and supplier.
"However, average supermarket savings on wine are down 9%. The only retailer to show any increase in % savings, albeit only 0.68%, is Waitrose."