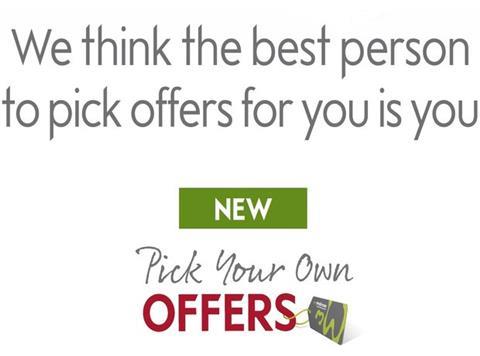 Waitrose has launched a nationwide rollout of its "Pick Your Own Offers Scheme" in a move which MD Mark Price predicted would "revolutionise" promotions around the world.
All Waitrose loyalty card holders will be able to pick 10 from a list of 1,000 branded and own label products, on which they will receive discounts of 20% for three months each time they buy them, in store or on the web.
The list will be updated every three months, and Price predicted that it could soon be increased to cover thousands more potential products from which customers could pick their favourites.
There would be nothing to stop consumers buying just ten items, all reduced, he said, or even, in extreme and "unlikely" cases, clubbing together with friends and family to do combined shops of products all at 20% off.
He said the scheme could cost Waitrose and suppliers between them in the region of £5m a week, based on an average basket, admitting it could be "very expensive" , with the but cost shared between suppliers and the retailer.
"We could be talking telephone numbers," he said.
But Waitrose hopes the money will be more than made up for by a surge in sales and increased loyalty.
The Grocer broke the news last month that Waitrose was trialing the scheme, at five stores in the northwest, and Price admitted he "could not wait" for it to go national.
Waitrose is to email 4 million MyWaitrose card holders to tell them of the offer, as well a launching a major in store marketing campaign this week, followed by a big press and outdoor advertising campaign next week to back the launch.
"This is a world first and is truly revolutionary," said Price. "All the suppliers we approached bit our hand off to do it and I suspect that everybody will now want to do it.
"There is a real degree of confusion among consumers about where the value lies with promotions and for the first time this is going to give them the holy grail of being able to choose their own offers based on the products they buy the most.
"I think the genius of what we're doing is that you as a customer decide."
Waitrose will email customers suggestions based on previous purchases, but said customers would be free to choose from a range of products, from everyday essentials such as fresh fruit to expensive items such as meat joints and wine.
The number one item in the trial in the northwest was Waitrose essential loo roll, with a big spike in sales of free range eggs, bacon and tomatoes.
Price admitted Waitrose had been holding back significant promotional spend this year in preparation for the launch but said that the 1,500 existing offers in store would not be affected, with the 20% off counting on top.
"With us matching Tesco on branded items and Sainsbury's on own label, this means that for those ten items we will be cheaper than them by 20%," he said.
"This is being very well backed by suppliers as its based around loyalty to their products. What will be fascinating is how this changes the market in the UK and quite frankly around the world."
In the future Price said he believed suppliers would look to set different rates of reduction under the scheme, with some looking to cut their prices by up to 50%.
"I think we could see a huge change in the mindset of how promotions are done," he said.
Waitrose marketing director Rupert Thomas told The Grocer: "What suppliers want is promotions which drive brand loyalty and in the past promotions have all been about trying to persuade them to desert their favourite brands and go elsewhere. "
He said the scheme had the "resounding support" of brands.