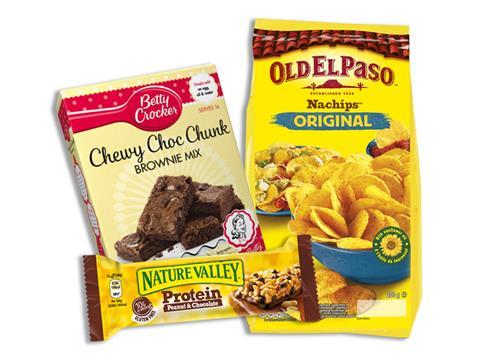 Supermarket prices for General Mills UK brands are surging, raising speculation the supplier has become the latest to push through Brexit-related cost inflation.
Old El Paso, Nature Valley, Green Giant, Golden Grahams and Betty Crocker have all been subject to recent price increases in the mults, exclusive research by The Grocer has revealed.
Waitrose this week increased its price for the range of Nature Valley five-packs from £2.39 to £2.49, while Sainsbury's has hiked base prices across its Old El Paso range. The Old El Paso Nacho Kit (520g) has gone up from £2.95 to £3.30, and the Old El Paso Squeezy Jalapeno Relish (255g) from £1.75 to £2 [Brandview].

It follows price increases across Betty Crocker's range of cake and icing mixes in Waitrose, Tesco and Sainsbury's this month, with most products now £2.50, up from £2.25.

Shoppers are also paying more for Green Giant's range of tinned sweetcorn following recent price increases in Asda, Sainsbury's, Morrisons and Waitrose. A 198g tin of Green Giant Niblets Originals Sweet Corn is now 71p on average - up 17% year on year.

Sainsbury's also increased a 375g box of Golden Grahams from £2 to £2.10 last month, while Waitrose has this month increased the SKU from £1.99 to £2.09.

General Mills UK refused to comment on whether it had followed Unilever and Premier Foods in pushing through cost price increases to counter the devaluation of the sterling since the Brexit vote.

"We do not comment on our specific cost-pricing arrangements with our customers and, of course, consumer pricing is at the sole discretion of our customers," said a spokeswoman for General Mills UK.

However, in its March Q3 2017 trading update, the supplier admitted UK sales had been hit by "unfavourable foreign currency exchange", which was "ofsetting growth" from its Häagen-Dazs, Old El Paso and Nature Valley brands.
Premiumisation
Retail price inflation on General Mills UK brands comes as bags of Old El Paso Nachips and Old El Paso Tortilla Chips have shrunk from 200g to 185g, with the smaller bags rolling out in the mults last month.
The brand said the reduction in pack weights was part of a push towards premiumisation, with both ranges overhauled and relaunched with a more "authentic" recipe and production process.

The corn flour used in Old El Paso Nachips had been replaced with whole corn kernels, it added, while new production steps, including kettle cooking and soaking of the whole corn kernels, had been introduced across both ranges to create "a stronger corn taste and crunchier texture".

The "new and improved" ranges had been rolled out in new packaging featuring a "crunchy" sub-name to highlight the changes and reduced pack weights, it claimed.

"We are excited to be leading the way with these more authentic and tastier updates to Old El Paso nachos and tortilla chips," Lindsay Hill, marketing manager for Old El Paso told The Grocer.