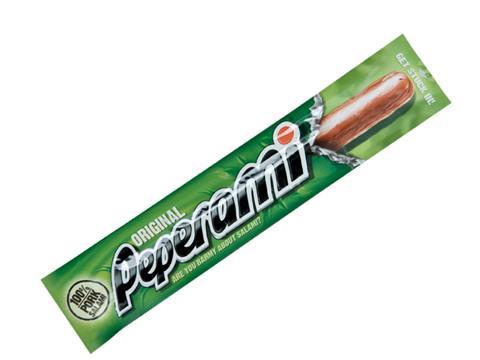 Peperami has become the latest food brand to fall victim to post-Brexit 'shrinkflation', as manufacturers across fmcg embark on a fresh wave of pack size reductions in the face of rising costs.

The meaty snack has been trimmed from 25g to 22.5g while the rsp has remained the same at 79p for a single stick, £1.59 for a pack of three and £2.50 for a five-pack. The new slimmed-down Peperami started rolling out to shelves in the second half of March.

Peperami, which is manufactured in Germany, had been subject to "rising commodity costs and foreign exchange pressure" due to "significant currency fluctuations", said a spokeswoman for the brand. "We always endeavour to reduce the impact of such movements to ensure our brands are as affordable as possible for our loyal consumers and have limited this impact to a reduction in the size of our sticks from 25g to 22.5g, whilst maintaining the number of sticks sold in multipacks."

It comes amid further reductions to pack sizes by crisps, chocolate and biscuit manufacturers this year as the impact of the post-Brexit currency crash amplifies rising commodity costs.
Sharing bags
Sharing bags of Doritos have been reduced from 200g to 180g, but remain on sale at the same average price of £1.99 in the mults [Brand View], while Mars has cut sizes of some sharing bags by 10%-15%, with the smaller packs landing on shelves in Tesco and Asda last month. A large pouch of Galaxy Minstrels is down from 232g to 210g at the same price of £2.50 in the two supermarkets, while M&M's Crispy Pouch has shrunk from 141g to 121g for £1.50 and a sharing pouch of Maltesers is down from 184g to 166g at £2.50.

Confirming the pack size changes, Doritos owner PepsiCo said "fluctuating foreign exchange rates" had pushed up the cost of ingredients and materials, forcing it to "make a few changes to certain Doritos packs".

A spokesman for Mars stressed the decision to reduce pack sizes had not been an easy one. "We have been absorbing rising raw material and operational costs for some time, but the growing pressures mean that we can't keep things as they are," he added.

Shrinkflation hasn't been limited to the snacking aisles, with Birds Eye reducing pack sizes across a wide range of frozen chicken, fish and vegetable lines in recent months after warning of surging costs since the Brexit vote.

In addition to its well-publicised reduction of fish fingers packets from 12 to 10 - still on sale at the same price of £2.50 in most major supermarkets - the supplier has cut packs of Crispy Chicken Dippers from 14 to 12 for £2, and trimmed a bag of petits pois from 1.28kg to 1.005kg, while it remains on sale at an average price of £3.17.

The decision to reduce pack sizes of some products had not been taken "lightly", but had been unavoidable in the face of rising raw material prices since the EU referendum, said Birds Eye UK & Ireland MD Wayne Hudson.

"Whilst we are absorbing a significant proportion of the inflation ourselves, the level of increases mean that some pack sizes will see a reduction."