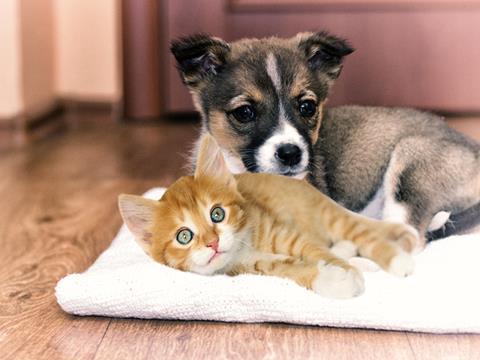 Shoppers aren't just paying more for their own dinner in the wake of the Brexit vote - the cost of feeding pets is also rising as inflation hits the mults.

Average prices for petfood are up 2% year on year across 1,018 SKUs in the major mults [Brand View 52 w/e 22 February 2017], the latest data reveals.

Catfood prices are 2% higher on average, with brands owned by Nestlé's Purina petcare arm - Felix (up 4%), Purina Go-Cat (5%) and Gourmet (7%) - among those subject to the biggest price hikes in supermarkets over the past 12 months.

A 12-pack of 100g Felix Mixed Selection Pouches is now £3.46 - up 8% compared with last year - while Tesco, Asda and Waitrose have hiked prices on 85g individual tins of Gourmet by 11% to 50p and six-packs by 33% to £2.

An 825g box of Purina Go-Cat Tuna Herring And Vegetable is up 7% to £2.21 and an 800g bag of Purina Go-Cat Crunchy And Tender Beef Chicken And Added Veg has risen 8% to £2.85 on average.

Mars-owned Whiskas is also up 2% on average, with Whiskas Adult Fish Selection In Jelly 6x390g cans and Whiskas Adult Mixed Selection In Gravy 6x400g both up 27% to £3.80.

Meanwhile, Mars stablemate Sheba is actually 1% cheaper year on year, while Iams (-9%) and Harringtons (-3%) catfood is also cheaper than last year.

Dogfood prices are up 1% on average across 433 SKUs in the mults, with Mars-owned brands Cesar (up 6%) and Pedigree (4%) among those facing the biggest price hikes. A Cesar Classics Selection Tray 4x150g-600g is up 7% to £2.54, while six tins of Pedigree Meaty Meals In Jelly are now £3.48 - up 9% year on year.

Dogfood brands that are cheaper in the mults compared with last year include Chappie (-3%), Winalot (-4%) and Bakers Complete (-1%).

Elsewhere, birdfood prices are up 4% on average following a spate of price increases in Tesco, Sainsbury's and Asda, while fishfood prices have remained relatively stable compared with last year.

Petfood suppliers are facing the same hikes on raw material costs as food and drink suppliers, with high prices for British wheat in particular set to have an impact on the sector

Richard Page, MD of Inspired Pet Nutrition, warned back in October 2016 that unusually high prices for local wheat were putting serious pressures on supply chains and prices have since risen further. UK feed wheat futures reached £146.75/t earlier this month, up 38% from last year.

However, Nestlé said it was "used to dealing with all the variables" that could affect cost pricing, including fluctuations in currency. "We constantly review those costs and we will continue to manage all of these factors within Nestlé with a view to making cost price increases only when absolutely necessary," said a spokeswoman.