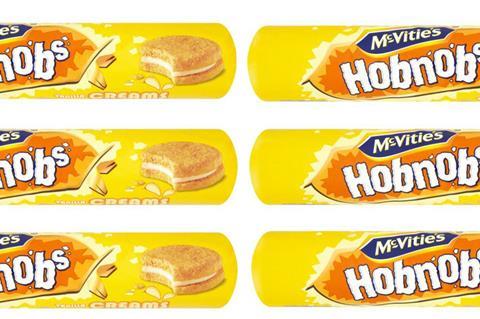 McVitie's Hobnobs Creams have become the latest victim of shrinkflation by Pladis, becoming 20% smaller with no change to price.
The supplier has reduced the number of biscuits from 15 to 12, cutting the pack weight of both variants, Vanilla and Chocolate, from 200g to 160g while maintaining an rsp of £1.22. This means the price per biscuit has risen by about 25% from 8.1p to 10.2p.
The move was a result of an overhaul of the McVitie's Creams lineup, according to a Pladis spokeswoman.
"As part of a refresh to our McVitie's Creams range – including new flavours and a modern new look to the packaging – we have made some changes to the pack size of the McVitie's Hobnobs Creams SKUs," she said.
"In making these changes, we have aligned the pack sizes within the full range, offering a simplified shopping experience for consumers."
The spokeswoman stressed that Hobnobs Creams – which are listed by Asda and Morrisons – were "available across retailers at an EDLP of 50p throughout the majority of the year. However, pricing is ultimately at the discretion of the retailer."
In January 2018, Pladis announced it would shrink some pack sizes across its portfolio in the face of rising costs. The biscuit maker would "make selective changes to a small proportion of its packs" over the coming months, it said. Original McVitie's Digestives were the first to get smaller, from 500g to 400g.
That change came about four months after McVitie's Jaffa Cakes were cut, with a 12-pack shrinking in September 2017 to 10 biscuits. While the rsp fell from £1.15 to 99p, the SKU became 3% more expensive per biscuit. The Jaffa Cakes twin-pack was reduced from 24 to 20, although its price dropped to £1.89 from £2.19.