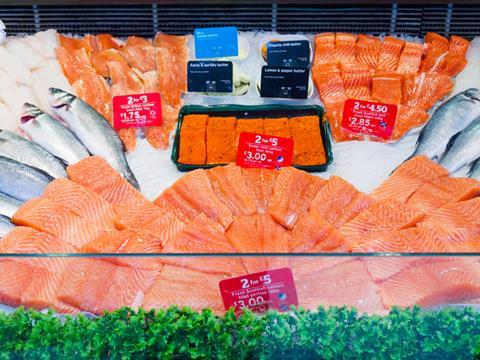 Sainsbury's has hiked prices across a raft of fresh salmon SKUs amid rising wholesale prices driven by tight supplies and increased demand.

Fresh salmon prices have risen by 14% on average across 23 SKUs in Sainsbury's during the past week [Brand View 29 May 2017 to 5 June 2017].

A 260g premium own-label lightly smoked salmon fillet is up 14% to £5.77, while 120g of smoked salmon is up 15% to £3.12 and Wild Smoked Sockeye Salmon 100g is up 9% to £6.25.

Prices for salmon remained relatively flat in the other big retailers during the past week, but are up 12% on average across 113 comparable SKUs in the mults on last year [Brand View 52 w/e 5 June 2017].

Sainsbury's said prices were "determined by a number of factors" and "can fluctuate as a consequence".

Steve Bracken, business support manager for Marine Harvest - which has supplied Sainsbury's own label salmon since 2015 - said there had been "strong demand and a decline in global supply" of salmon in the first quarter of 2017.

Wholesale prices for Norwegian farmed salmon are currently 36% higher year on year [Mintec 52 w/e 31 May 2017] due to "tighter global supplies", said Mintec analyst Michael Liberty.

"In 2016, high sea lice numbers limited Norwegian salmon production by 5% year-on-year to 1.17m tonnes, whilst high demand in Europe further supported price hikes," he added.

"In addition, a Harmful Algal Bloom (HAB) devastated Chilean production at the start of 2016, resulting in its total yearly production declining 16% year-on-year to around 0.5m tonnes. This has boosted Norwegian salmon exports to the US and Japan."

Jack-Robert Moller, director of the Norwegian Seafood Council, said many UK supermarkets had resisted passing on the full impact of rising costs earlier this year because salmon was "so important" to retail.

"We saw a situation earlier this year where many retail markets didn't compensate fully the price increase they had, so we were expecting a massive price increase in the period we've just left behind in 2017," he said.

"If you look at the price picture in the UK, there is a different pricing strategy among all big retailers, some of them have put forward higher prices for consumers, others haven't."

However, Moller predicted there would be seasonal drop in price in the second half of 2017, as salmon volumes increase during the summer.