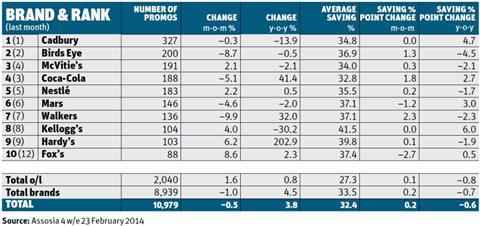 On the face of it, all is quiet on the promotional fixtures front - but there are plenty of changes happening below the surface.

While the total number of promotions - and the brands doing the most - has been fairly stable in the four weeks to 23 February compared with a month and even a year ago, how they are promoting is altering.

The straight money-off deal is becoming increasingly popular with suppliers and retailers - and shoppers, suggests Kay Staniland, MD at retail analysts Assosia. "The basic 'price cut/save' is favoured by most as consumers can see the difference in price - nothing hidden, no x-for-y deals to work out, just a straightforward money-off."

Of the 10 most-promoted brands, six have increased their use of the 'save' mechanic year-on-year. In the past four weeks, over half of Cadbury's deals in the big five were straight money-off compared with just a quarter a year ago. Mars, Birds Eye and Fox's have each ramped up use of the mechanic to around 70% of their featured space promotions this month. On average, 'save' deals account for 43.5% of all featured space in-store, up 6.3 points on last year.

Meanwhile, the industry is shifting away from the potentially more expensive half-price offer, with eight of the top 10 running fewer such deals. This was particularly true of Birds Eye, which slashed its use of half-price from 42% of deals a year ago to just 22%. On average, half-price now accounts for about 18% of all featured space in-store.

One brand that bucked the trends was Hardys, which offered three times as many featured space deals as a year ago, and proportionally less use of 'save'. The surge in activity follows a brand revamp late last year supported by a £2.6m push that runs through to April.

But Hardys is an exception, with the rest of the big players generally running similar levels of activity to the previous periods, though Coca-Cola and Walkers are running considerably more deals than a year ago.

"Featured space is an expensive proposition for most companies, but the big players still consider the investment worthwhile," said Stanliand.
Wholesale prices: potato prices fall as market normalises
Unusually high potato prices contributed to a fall in veg consumption in 2013 (see news, p4), but spuds prices are now on a firm downward trajectory - down 35.7% year on year and 1.1% on last month. Prices are falling partly because the market is returning to more normal pricing levels; European growers have also planted additional hectares this year, raising the prospect of further price falls.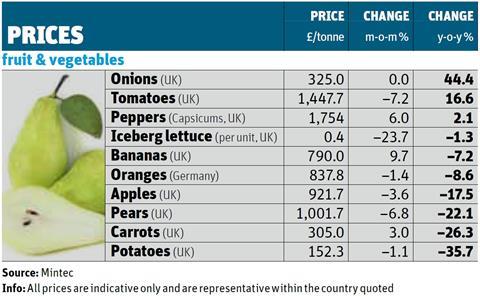 By contrast, onion prices in the UK are up sharply year on year because poor weather has hampered planting, and tomatoes also remain more expensive year on year, though prices have eased over the past month as supply has stabilised.
With Spain's orange harvest now under way, supply of oranges has improved and prices have started to fall, down nearly 10% year on year. Improved supply from Spain is also driving down pear prices: Spain's pear crop is expected to reach 390,000 tonnes this year - up 10% year on year.