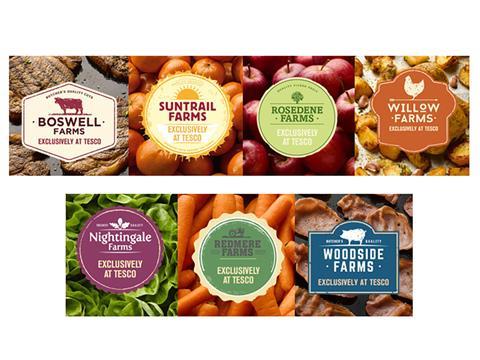 Tesco is to benchmark thousands of food and drink products against Asda and the discounters as it looks to slash the cost of its own-label lineup, it revealed this week.

Chief customer officer Jason Tarry unveiled a new pricing framework, which he promised would be rolled out across Tesco's entire 11,000 product own-label range, in a bid to target the discounters using price and quality improvements.

Under the framework, which Tarry said had already been rolled out to 500 products, including its Farms brands, Tesco will vow to match the price and quality of Aldi and Lidl products across at least 60% of its entry level, or 'good' lineup.

Tarry also revealed Tesco would pledge to be as cheap as Asda and as high quality under taste tests as Sainsbury's in eight out of 10 of its 'better' tier offer. Finally, Tesco said its Finest range would match the quality of the market leader on all products, although there is no price pledge in its 'best' tier.

The new own-label pricing framework, which comes on top of its Brand Guarantee strategy to match the price of branded goods with its rivals, was unveiled externally for the first time at a presentation to analysts and has already been secretly used as the rationale for the launch of its Farms brands.

"We have already done this with 500 lines and over the next few years we will roll it out to all 11,000 lines," said Tarry.

"There is still a gap between us and the discounters but where we have used this pricing framework, for example in our Farms brand, there isn't a gap any more. Right now the discounters are formidable but we are definitely becoming more competitive."

Tesco's promises on future price cuts, having already claimed to be 6% cheaper than two years ago on average price, came as it held talks this week with analysts as well as its top 28 own-label suppliers to explain the next steps on its turnaround strategy.

CEO Dave Lewis told The Grocer he wanted to be as transparent as possible to suppliers while not giving rivals a competitive advantage.

Asked if the demand for cheaper own-label products flew in the face of soaring commodity costs and pressure on the pound since the Brexit vote, Lewis said: "We are not naïve to the fact there is inflationary pressure but we have the advantage of having a very big commodities team. We've also been very successful in offsetting the cost by using cost savings from elsewhere."

Bernstein analyst Bruno Monteyne said the plans showed how Tesco planned to "develop its pricing power. Tesco is turning over every stone in its businesses and is rebuilding the proposition on price from the ground up," he said.