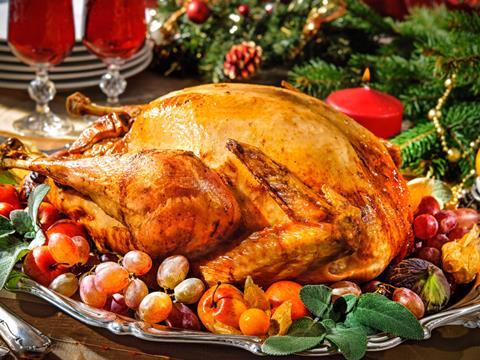 Shoppers face paying more for their turkey this Christmas after wholesale prices surged on the back of difficult breeding conditions.

Wholesale prices paid by some independent butchers and foodservice operators were as much as 20% higher compared with last year, said Kelly Turkeys MD Paul Kelly.

Across the market, wholesale turkey prices are up 6% year on year, according to latest data from Mintec. It follows a heatwave-led slump in egg production in France during the summer.

With British turkey supplies tighter than usual, some independent buyers were "getting what they need from abroad" in order to keep turkey on shelves, suggested Kelly.

However, British Poultry Council CEO Richard Griffiths stressed suppliers had "struggled through" and shoppers were unlikely to see any shortages.

Supermarkets would be less affected by fluctuating wholesale prices due to longer-term contracts, added a spokesman for poultry giant Avara Foods.

"Our planning starts almost 12 months in advance, so most of these issues haven't significantly affected our business," he said. "We work closely with our customers to agree orders well in advance and then put the necessary plans in place."
However, prices have risen on some turkey SKUs in Waitrose, Asda and Tesco compared with last year, data suggests.
Waitrose's average fresh turkey price is up 10% year on year [Edge by Ascential], with a free-range bronze feathered breast on the bone turkey crown up by 9.1% to £18/kg.
Its turkey breast on the bone crown with prime wing is 11.2% more expensive at £10/kg. Meanwhile, Asda's frozen special British turkey & duck joint is 4.2% more expensive at £12, and a Tesco British frozen medium turkey breast crown is 7% more expensive.
"Like any retailer, we are subject to inflation and changes in the market," said a spokesman for Waitrose, who stressed a "number of prices" had also been reduced on turkey SKUs.
A Tesco spokesman said: "We want to provide our customers with great value and regularly review prices to reflect this. For example, this Christmas we have invested in promotions on our whole turkeys which makes them cheaper than last year."