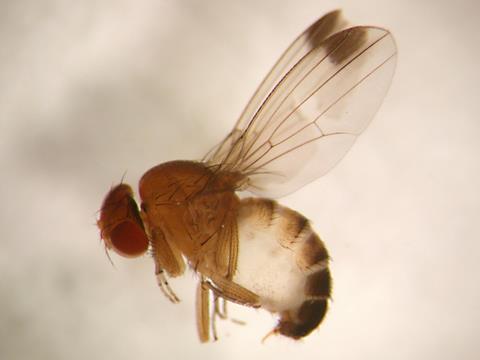 As growers gear up for this year's British soft fruit season, they are being urged to step up monitoring efforts to protect UK crops from a particularly problematic type of fruit fly.
Spotted wing drosophila (SWD) lays its eggs while fruit is ripening, leading to rotting and spoilage. It can result in growers having to increase their use of pesticides significantly as well as interfering with the usual harvest cycle.
The fly can affect a wide range of soft, stone and bush crops, with strawberries, raspberries and cherries especially vulnerable. It has infested crops in France, among other countries, but has to date been kept out of UK commercial crops.
However, this year's mild and wet winter meant British crops could be more at risk from SWD, warned Laurence Olins, chairman of industry association British Summer Fruits. It was therefore vital that growers participated in national monitoring efforts - including precision monitoring using traps - and educated themselves on how best to respond should SWD be found in their crops.
East Malling Research and the James Hutton Institute are leading research efforts on SWD and have set out a programme of measures for growers to help control SWD. These include weekly monitoring using so-called 'droso-attract' bait in special traps, as well as hygiene and waste management efforts.
"We know there's SWD in bigger numbers out there and some have already been found in hedgerows and in the wild," Olins said. However, he stressed though SWD was potentially a serious threat to the UK's soft fruit crop, "losses should be kept to a minimal level if the correct measures are implemented". "There has been a lot of investment in research and we are in a good position to respond to SWD, so I would expect any impact on retailers to be minimal," Olins added.
Commodity prices: maize prices rise as production forecast comes in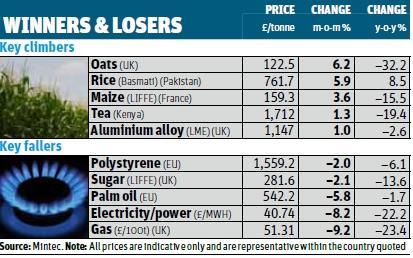 Maize prices have moved up over the past month, as production levels for 2014 are now forecast to be down by 4% year on year. Despite this, prices remain below the levels seen a year ago, currently down 15.5% year on year.
Tea prices in Kenya are also on the rise, as dry weather has resulted in a drop of supply and pushed up prices. However, prices are still 20% cheaper than they were this time last year, coming in at £1,712/tonne.
At the other end of our table, gas prices continue to fall in response to warm weather in the UK, while palm oil prices are dropping because of lower demand, particularly from China. The price of sugar is also falling, due to lower demand coupled with good levels of supply from India.
Prices digest
California drought: US shoppers have been warned the price of avocados and lettuce may increase by around 30% according to a professor at Arizona State University who has estimated the likely impact of the current California drought on crops.
Bank pulls back: Barclays has this week announced it is to quit most of its commodities trading in metals, energy and agriculture, making it the latest in a string of banks to do so in the face of tougher regulation.
Brazil sugar output down: Brazilian sugar industry body Unica Sugar has said output in Brazil's Center South, the world's largest producing region, will be down 5.2 percent this season after crops were affected by drought.
Cider apple crop: UK cider producers this week said it is still too early to tell what effect winter flooding has had on crops in key counties including Somerset and Herefordshire. The true picture is expected to become clearer next month