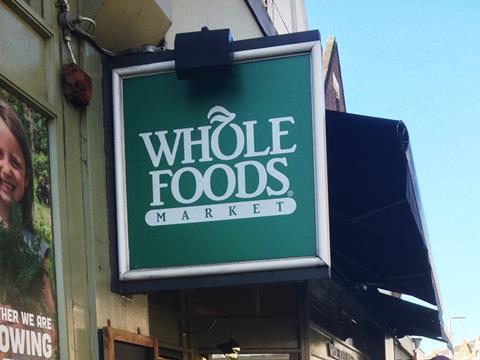 The nickname 'Whole Pay Check' has been a growing millstone around the John Mackey's neck. And with rival US grocers Trader Joe's, Walmart and Target stepping up their cheaper organic offerings, it was unsurprising when Amazon last week started to tackle Whole Foods' expensive reputation.

Just one day after the acquisition was finalised, Amazon announced plans to make the high-end grocer "affordable for everyone". It took an axe to the price of Whole Foods bestsellers including bananas, avocados, salmon, chicken and kale, promising this would be "just the beginning". Overnight, more than $11bn (£8.6bn) was wiped off the value of the world's largest supermarkets and food and drink manufacturers - hitting everyone from Walmart to Tesco.
Whole Foods Richmond since the Amazon takeover


So what will be the implications of Amazon's assault on price? And what impact, if any, will it have on the UK market?
Substantial cuts
Let's start with the US. Price cuts were substantial in percentage terms. A pound of organic Gala apples, for example, is down 43% to $1.99. Organic avocados fall by 29% to $1.99. Crunchy almond butter is down 13% to $6.99. Although these cuts have not yet filtered down to all items, Amazon has promised "more to come".

But this is by no means a race to the bottom. An organic rotisserie chicken for $9.99 isn't exactly appealing to the lower end of the market (at Walmart, you can get an entire rotisserie chicken meal for the same price). Plus, the discounted items are very much targeted at its high-end customer base. As analyst Bernstein puts it, the organic produce and almond butters will appeal to the "quinoa elite" rather than shoppers looking for a few basics. So the hit to the share prices of mainline US grocers - Walmart fell more than 2%, Costco slumped more than 5% and Kroger dipped 8.8% overnight - may be unwarranted. "They serve different customers and don't directly translate."
Price changes since the Amazon takeover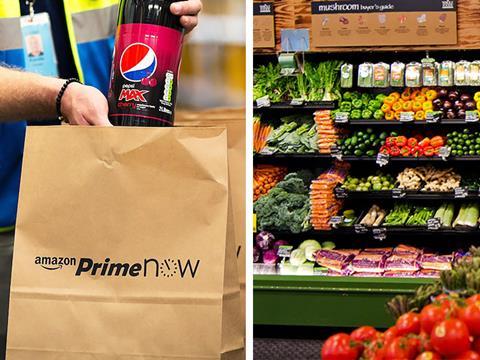 Organic large free-range eggs (six)
Was £2.75 Now £2.55 Change -7%
Volvic Mineral Water (1.5l)
Was 67p Now 60p Change -12%
Organic Fairtrade bananas (kg)
Was £1.79 Now £1.20 Change -33%
Yeo Valley Organic butter (250g)
Was £1.70 Now £1.65Change -3%
Mr Organic Pasta Sauce (350g)
Was £2.69 Now £2.29 Change -15%

Molly Johnson Jones, senior retail analyst at Global Data, says Amazon will have to "work hard" to address price conceptions around price. It will take more than a few discounts to make Whole Foods appeal to the mass market. Yet she doubts this is Amazon's ultimate aim. "You can't overestimate how much Amazon is willing to invest in gaining market share," she says. "But they're not going nuclear on price. They will be carefully targeting customers who perhaps walked away from Whole Foods because it was too expensive and Amazon shoppers who haven't yet shopped there but are interested."

Johnson Jones finds the lesser reported element of the strategy - the integration of the Prime programme into Whole Foods stores - more interesting. By giving Prime members extra savings and in-store benefits, as well as installing Amazon lockers in stores, there is clear scope to cement loyalty and entice new customers. "Our data shows 70% of regular Whole Foods shoppers are also Amazon customers or Prime members," she says. "But only 2% of Amazon customers shop in Whole Foods so there is a lot of potential."

By selling Whole Foods products on the main Amazon site, as well as AmazonFresh, Prime Pantry and Prime Now, the brand can also extend its reach beyond its relatively small store estate (it has 450 in the US, compared with 4,600 for Walmart).

If the path to expansion in the US seems clear, in the UK, it's more fuzzy. Whole Foods has an even smaller physical footprint of just nine stores. So Tesco's management won't lose too much sleep over domestic price cuts. And few can imagine Amazon pursuing an expansion of its UK store network. "It doesn't feel very Amazon," says a senior source. The recent inclusion of Whole Foods produce on Amazon's UK site could present more of an opportunity, but as the brand is relatively unknown on this side of the Atlantic, TCC Global analyst Bryan Roberts believes its impact will be "insignificant" for now. One long-term casualty could be Morrisons, whose supply deal with AmazonFresh could end. But Roberts believes both brands can co-exist as they are "very different propositions".

Amazon certainly has its work cut out to make the Whole Foods deal pay off. As former Amazon executive and global strategy consultant Brittain Ladd says, it will need to be "focused like a laser on Whole Foods" to tackle the declining sales and high price perceptions. Still, the price cuts have grabbed attention. And even if the fall in share prices seem unjustified for now, grocers would be unwise to ignore the long-term threat.The UK price cuts