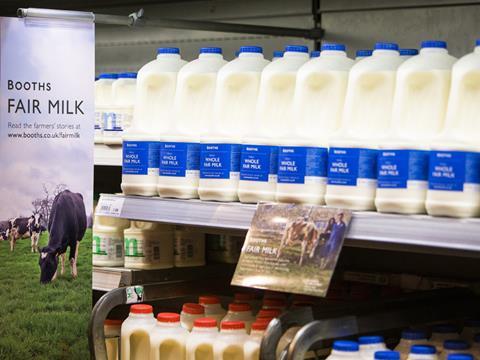 Booths is rebranding its own-label milk as 'Fair Milk' and increasing its farmgate milk price to 35.5 pence per litre as part of a new commitment to pay farmers more for their milk than any other UK supermarket.
The new price will apply to four dairy farms that supply roughly six million litres of liquid milk a year for Booths' own brand through Müller Wiseman. Booths will be supporting the initiative with new branding on its milk bottles as well as point-of-sale material.
Booths said it would benchmark its farmgate price against other retailers using the milkprices.com website, and review it monthly to ensure it was paying more than its rivals.
At present, the milkprices.com site lists the Dairy Crest Waitrose contract as the best-paying supermarket milk contract, coming in at 35.34ppl.
Previously, the four farms that will supply Booths own-label milk through the new contract would have received Muller Wiseman's standard milk price, which was 33.6ppl in May and will come down to 32ppl from June.
"Giving a fair deal to farmers and producers is core to our buying ethos," said chairman Edwin Booth. "After long negotiations with our milk processor, Müller Wiseman, we're delighted to guarantee the highest farmgate price for our dairy farmers.
"The deal allows us to form relationships with local producers, directly benefiting farmers in our region. I'm proud to tell our customers that when they buy a pint of Booths milk, they're giving the farmer a truly fair price for the milk."
Receiving a higher price for their milk meant farmers would have greater confidence to invest in the future, Booth added.
One of the four farmers involved in the scheme – Christopher Dodd from Cheshire – said: "A higher farmgate milk price will enable the business to expand, buying cows and dairy accommodation to provide a sustainable financial future."
Booths does not have a segregated milk pool, so although the four farms will receive the special Booths price for 100% of their milk output, the actual milk that ends up in Booths own-label bottles will be from a mixture of Müller Wiseman farms.
Booths' milk price pledge comes as farmgate milk prices are coming increasingly under pressure following record milk production in the UK and weaker global dairy commodities markets. At the end of April, Arla announced it was cutting its standard milk price, followed by Müller Wiseman, First Milk and others.